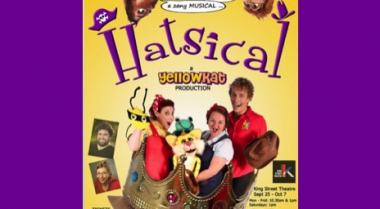 2

Double-Passes to give away!
$45.00

Prize value
HATSICAL
Event Date: 25/09/2017, 10:30 am
Hatsical! - A Puppet Musical Comedy for Kids
From the world of the Meowalot Kids Club where puppets and people hang out, YellowKat and her friends use a box of hats to recreate Shakespeare's romantic comedy 'Twelfth Night'. A pampered countess, a dragon duke out to impress, two very cheeky monkeys and the hero twins will be boating, sword fighting, letter writing, eating, and getting married all in an hour and all in hats!

Featuring puppets, live music, a professional cast, with original songs and witty puppet banter, Hatsical the Musical is set to entertain during these school holidays with its unique musical theatre comedy style and zany puppet characters.

YellowKat Productions has been entertaining children with quality content since 2007, performing in preschools, shopping centres, festivals, clubs, private parties and large concerts as well as a regular podcast. With a large catalogue of over 40 songs YellowKat's music is written specifically to involve, engage and entertain young children. YellowKat's latest album, Walla Walla Bing, placed 9 songs in the top 20 in the children's song category in the Australian Songwriter's Association Children's Song of the Year 2016.

BOOKINGS
http://www.kingstreettheatre.com.au/hatsical-the-musical/

WHEN
25 September - 7 October 2017 (School Holidays)
Monday to Friday, 10:30am and 1:00pm
Saturdays and Monday Labour Day Public Holiday: 1:00pm only
1 hour duration

TICKETS
Kids/Concession: $20.00
Adults: $25.00
Family: $70
Groups of 10+: $17.00 per person
Vocational Care Groups: $15.00 per person

CAST:
Sonia Hardie
Celeste Notley-Smith
Max Newstead
Helen Perris
Anton Korytnyj

WRITTEN BY:
Sonia Hardie & Celeste Notley-Smith
MUSIC BY:
Sonia Hardie & Anton Korytnyj
Loading Map ...

Location:
KING STREET THEATRE ,
NEWTOWN New South Wales,2042
Location:
KING STREET THEATRE ,
NEWTOWN New South Wales,2042