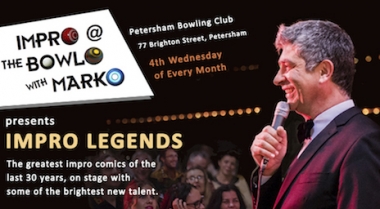 2

Double-Passes to give away!
$30.00

Prize value
Impro Legends
Event Date: 28/11/2018, 07:30 pm
ImprO @ the BowlO with MarkO Presents… IMPRO LEGENDS
Come and see the greatest impro comics of the last 30 years on stage with some of the brightest new talent.

Ever since Theatresports came to Belvoir St Theatre back in 1985, Sydney has had a rich history of hilarious comic improvisers and shows. Marko Mustac was there at the beginning as a new young actor and comic, and he rose through the ranks to become one of Australia's most decorated Theatresports players, and most prolific creator of new shows and formats.

For his new show, IMPRO LEGENDS, Marko gathers together some of the greatest impro comics of the last 30 years, and combines them with some of the hottest up and coming players, to create a hilarious night of ad-libbed creativity and laughter.

Over three nights you will see a selection of great players, from Jon Williams, Lisa Ricketts, Ewan Campbell, Michael Gregory, David Callan, Daniel Cordeaux, Monique Dykstra, Linette Voller, John Knowles, Dave Bloustien, Jeremaia Detto, Bryce Halliday and many more.

At the wonderfully relaxed and friendly environment of the Inner-West's own Petersham Bowling Club, you'll have a night of mad, made-up comedy of the highest order, from the best players you'll ever see!

The 4th Wednesday of Every Month
September 26, October 24, November 28

Loading Map ...

Location:
Petersham Bowling Club 77 Brighton Street,
Petersham New South Wales,2049
Location:
Petersham Bowling Club 77 Brighton Street,
Petersham New South Wales,2049