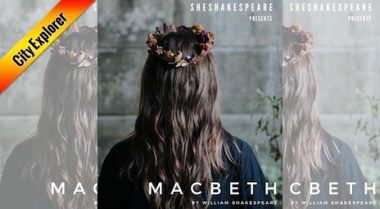 1

Double-Passes to give away!
$76.00

Prize value
Macbeth By William Shakespeare
Event Date: 04/09/2018, 07:30 pm
'Out, out, brief candle. Life is nothing but than an illusion.'
After last year's sold out season of As You Like It, SheShakespeare is delighted to host its second production, Macbeth.

Our incredibly talented, all-women cast is thrilled to have the opportunity to create, explore & present Shakespeare's text from a totally feminine perspective.

'SheShakespeare is a community of women who want to explore their creativity and produce opportunities for women in the performing arts with a mix of femininity & ferocity'
With
Megan Bennetts, Isabel Dickson, Rizcel Gagawanan, Joy Gray, Daniela Haddad, Prudence Holloway, Sonya Kerr, Emma Louise, Erica Lovell, Cassady Maddox, Suz Mawer, Emily McKnight, Beth McMullen, Lana Morgan, Grace Naoum
Directed & Produced by Shelley Casey
Assistant Directed by Lana Morgan
Music by Prudence Holloway

August 29 - September 8
Preview Wednesday August 29
Opening Night Thursday August 30
Loading Map ...

Location:
Pact Theatre, 107 Railway Parade,
Erskineville New South Wales,2043
Location:
Pact Theatre, 107 Railway Parade,
Erskineville New South Wales,2043