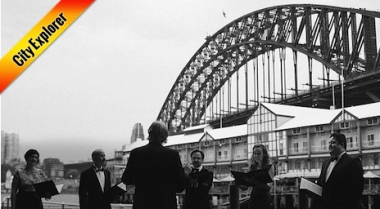 1

Double-Passes to give away!
$96.00

Prize value
Madrigalesque: Le Parole
Event Date: 19/08/2018, 02:30 pm
The Song Company hand-pick some of their favourite repertoire.
Madrigalesque: Le Parole is the first in an exciting singer-selected series in which The Song Company feature the a cappella 'hits' of the 16th and 17th centuries!

Le Parole or 'The Words' focuses on the traditions (both old and new) of the Italian Madrigal and some of its greatest masters:
Giaches De Wert, Heinrich Schütz, Claudio Monteverdi, Carlo Gesualdo, and Luciano Berio – with a few extra surprises along the way!

'Vocalisation' is all about the sound and the story. The Song Company comprises Australia's leading singers,
performing music of all times and places, from the 10th century to contemporary works, and is unique in its stylistic diversity.
The Company remains at the forefront of contemporary vocal music through an extensive commissioning programand collaborations with artists and composers of the highest calibre from around the world.
A longstanding commitment to education sees the ensemble perform regularly in schools throughout the country,
including bringing music workshops to children in regional and remote areas.
For this concert, the ensemble comprises Susannah Lawergren, Jessica O'Donoghue, Owen Elsley, Mark Donnelly & Andrew O'Connor.

Discover the passion of the vocal music that paved the road to opera
– as these five fine singers weave together words and harmonies that will leave you spellbound.
Plus the now legendary Independent Theatre selection of mouth-watering cakes and refreshments!
Tea from 2:30, concert at 3:30

Loading Map ...

Location:
The Independent Theatre 269 Miller St,
North Sydney New South Wales,2060
Location:
The Independent Theatre 269 Miller St,
North Sydney New South Wales,2060