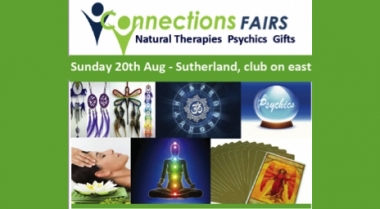 2

Double-Passes to give away!
$30.00

Prize value
Natural Therapies, Psychics And Gifts Fair
Event Date: 20/08/2017, 11:00 am
Connections natural therapies, psychics and gifts fair., Sutherland
Connections Natural Therapies, Psychics and Gifts Fairs is on again at Club on East, Sutherland. Connections Fairs promote psychics, health, wellbeing and holistic therapies as well as beautiful and unique gifts that enhance optimum health. As well as our natural therapists we have a wonderful array of psychics, mediums and readers who naturally bring in some amazing energy.

A wide selection of qualified natural therapists are available at our fairs, so it's a wonderful opportunity to learn about the various therapies or be pampered with an indian head massage, foot reflexology or energy healing.

Throughout the day there are wellness and meditation workshops, and psychics and entertainment on stage and best of all, this information is free and included in your entrance fee. This is a full day's event from 11am - 6pm
Loading Map ...

Location:
Club on East,
Sutherland New South Wales,2232
Location:
Club on East,
Sutherland New South Wales,2232