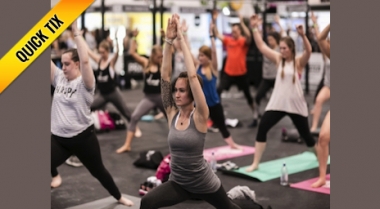 3

Double-Passes to give away!
$80.00

Prize value
Work Out With Dan Conn At The Fitness Show
Event Date: 22/04/2018, 10:30 am
The biggest fitness event of its kind in the southern hemisphere
Let's get ready to ruuuummmmmbbblllle!
Dan Conn is one of the most well known names in the fitness industry and now's your chance to workout with him in a small group boxing/HIIT session, along with icon Ellice Whichello.
Not only that, you get to enjoy the Fitness Show before and/or after your workout - where you'll find the latest workout gear, exercise classes, fitness gadgets and more.

The Fitness Show is open from 11am – 5pm on Friday and 10am – 5pm on Saturday and Sunday (April 20-22, 2018) at the International Convention Centre Sydney, Darling Harbour.
Loading Map ...

Location:
International Convention Centre Sydney, 14 Darling Drive,
Sydney New South Wales,2000
Location:
International Convention Centre Sydney, 14 Darling Drive,
Sydney New South Wales,2000