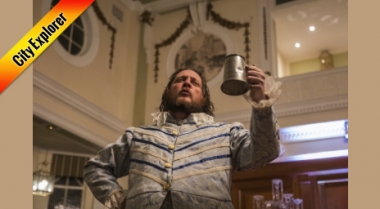 1

Double-Passes to give away!
$300.00

Prize value
Opera, Wine & Dine Series -
Event Date: 22/09/2017, 07:15 pm
Fully costumed comic opera, a bespoke 3-course menu with matching wines in a stunning historic venue
You are invited to dine at one of Sydney CBD's most beautiful heritage listed dining rooms whilst indulging in some of the opera world's most beautiful music. Be treated like royalty for the night!

Back by popular demand! Opera Bites, Sydney's favourite boutique opera company has once again partnered with The Castlereagh Boutique Hotel to bring you an unforgettable evening of fully costumed popular opera complete with a bespoke menu and select fine wines to match. As you step through the doors of this breath-taking heritage listed dining room you'll find yourself immersed in the world of operatic splendour.

Tickets include entertainment, 3-course bespoke menu and select fine wines to match.

Friday 22nd September - "Turkish Delight"

Join us on an operatic magic carpet ride as we journey to 18th century Turkey. Mozart's The Abduction from the Seraglio is a rescue opera like no other. Be seduced by the most sublime melodies as the heroes, Belmonte and Pedrillo, attempt to rescue their beloveds from the evil clutches of Osmin, the harem keeper.

Don your fez or salvar and join the guard or the harem in this unique event. Sung in English, this fully costumed production will take you on a wondrous journey. Bask in the exotic, right here in the heart of Sydney!

Presented by Opera Bites - see www.operabites.com.au for more details.

Loading Map ...

Location:
The Castlereagh Boutique Hotel, 169 Castlereagh Street,
SYDNEY CBD New South Wales,2000
Location:
The Castlereagh Boutique Hotel, 169 Castlereagh Street,
SYDNEY CBD New South Wales,2000

Contact Information:

Phone Number:

0403 780 107