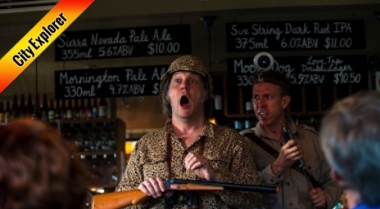 1

Double-Passes to give away!
$110.00

Prize value
Family Fun Opera
Event Date: 30/06/2018, 02:00 pm
Opera the whole family can enjoy! Fully costumed comic opera in a fun matinee performance.
Opera Bites, Sydney's favourite boutique opera company brings you a fully costumed, condensed comic opera for a truly accessible opera experience. Sung in English, this lively performance is perfect for opera newbies and seasoned opera-goers alike.

"Don Pasquale"
Comic opera at its best! A vivacious romp through mistaken identity in one of Donizetti's most brilliant and popular operas, Don Pasquale. Young and old will delight in this farcical tale of Don Pasquale's attempts to secure a wife and disinherit his nephew, Ernesto. Mischievous Dr Maletesta is on hand to ensure that feisty Norina marries the man of her dreams. Jam-packed with melodic and memorable tunes, it features many of the opera world's most cherished arias and ensembles and has something for everyone. Performed in English, this fully costumed performance is complete in 90 minutes (2 x 45-minute halves).

This draw is for 1 x Family Ticket (up to 2 adults and 2 children). Seating is general admission.
Loading Map ...

Location:
Redfern Town Hall, 73 Pitt Street,
Redfern New South Wales,2016
Location:
Redfern Town Hall, 73 Pitt Street,
Redfern New South Wales,2016