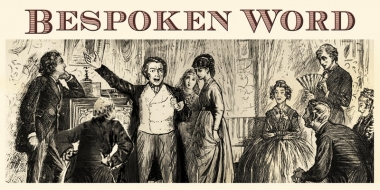 3

Double-Passes to give away!
$24.00

Prize value
Bespoken Word
Event Date: 23/11/2017, 07:30 pm
Bespoken Word is a monthly fresh new night of wonderful live storytelling & comedy.
The idea in creating Bespoken Word is give audiences an engaging, funny and at times poignant evening of great stories well told. The show is divided into two halves - the haves and have nots. Those who have prepared - and those who have not. The first bracket features crafted and practiced stories. Guests who take the stage in the second bracket have not even been given the topic yet, let alone time to prepare.

The first half, hosted by Kate Iselin will feature invited writers and people from the public performing their best stories linked by a theme for the night such as 'Betrayal/Betrothal' or 'Wrong Place Wrong Time'. Each participant has about 5 minutes of stage time to take us on a vivid storytelling journey. The audience chooses the story that most moved them and the winner receives a magnificent very inexpensive prize and a bottle of wine.

After intermission, John Knowles hosts a live episode of 'I Can Top That!, John's storytelling gameshow as heard on ABC 702's Afternoons with James Valentine. Its competitive true-story-telling-one-upmanship. Three professional comedians are challenged to tell their funniest true recollections based on a random audience suggestion. As one performer finishes their story, another shouts, "I CAN TOP THAT!" and tried to do just that with their own even better story. Its like The Moth meets Family Feud. It's like Hamish and Andy's True Stories but experienced live onstage without interruptions, editing or a net. The audience decides which guests wins the round, and then suggests a new topic. The key to this brand of comedy is that these stories are all true. Some will be shocking, others embarrassing, insightful, sweet or just plain hilarious. Its a smorgasbord of real life adventures
and raw revelations with an emphasis on vulnerability, confession and laughter.
Loading Map ...

Location:
Petersham Bowling Club, 77 Brighton St,
Petersham New South Wales,2049
Location:
Petersham Bowling Club, 77 Brighton St,
Petersham New South Wales,2049