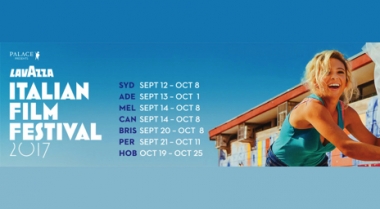 1

Double-Passes to give away!
$43.00

Prize value
Italian Film Festival - Sydney
Event Date: 13/09/2017, 01:45 pm
The Italian Film Festival in Sydney this September at the Palace Cinemas
Live la dolce vita with the Lavazza Italian Film Festival, Australia's preeminent destination for the very best new Italian cinema, screens September each year.

The full line up and tickets is now available via our website. http://www.palacecinemas.com.au/festivals/lavazza-italian-film-festival/

Palace Cinemas presents the Lavazza Italian Film Festival with exquisite films from, by and about Italy.

2017 FESTIVAL DATES
Sydney September 12 – October 8
Adelaide September 13 – October 1
Melbourne September 14 – October 8
Canberra September 14 – October 8
Perth September 21 – October 11
Brisbane September 20 – October 8
Hobart October 19 – October 25

Note: winner must live in NSW to win these tickets. The tickets will be mailed to you as a voucher and is valid for any date and time of the festival apart from the special events. Please ignore the date and time on your win confirmation.
Loading Map ...

Location:
Palace Cinemas,
Sydney New South Wales,2000
Location:
Palace Cinemas,
Sydney New South Wales,2000