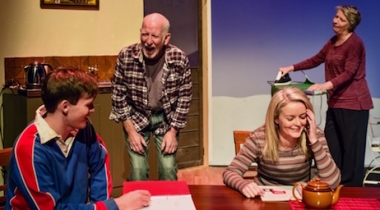 1

Double-Passes to give away!
$108.00

Prize value
Hotel Sorrento
Event Date: 02/08/2018, 01:00 pm
An Australian classic about family, country and betrayal
Family, country and culture collide in the award-winning comedy/drama Hotel Sorrento by one of Australia's most significant playwrights, Hannie Rayson, at Riverside Theatres from 31st July to 4th August.

Hilary lives with her father and teenage son in the family home in Sorrento. Reunited with Pippa, visiting from New York, and Meg, returning from England with her English husband, the three sisters must navigate the constraints of family life after ten years of living in different worlds.

When a semi-autobiographical book by middle sister Meg is published, it triggers old familial tensions, overshadowing their homecoming. Privacy, loyalty and contested versions of their shared history expose the complexities of personal identity, entitlement and betrayal.

This poignant dramedy, which inspired the AFI Award-winning Australian film of the same name, boasts a stellar cast including Ruth Caro (Home & Away), Dennis Coard (Miss Fisher's Murders), Kim Denman (All My Love) and Joanne Booth (House Husbands). They are led by critically-acclaimed director, Denny Lawrence (Educating Rita, Shirley Valentine) and an exceptional creative team.

Lawrence said, "Hotel Sorrento feels even more relevant today than when it premiered in 1990, holding a mirror up to a world living in fear, keenly aware of our differences, and to a nation constantly questioning the nature of what it is to be Australian."

Veteran actor and former Home and Away star Dennis Coard said he and the cast are excited for the show to visit Riverside Theatres. "While the story is set in Sorrento, Victoria, it could just as easily reflect a family story from Western Sydney, where the secrets and stories of the past suddenly become issues to face here and now."

Loading Map ...

Location:
Riverside Theatres,
Parramatta New South Wales,2050
Location:
Riverside Theatres,
Parramatta New South Wales,2050

Contact Information:

Phone Number:

(02) 8839 3399