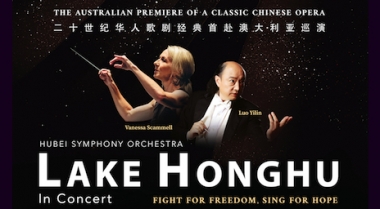 1

Double-Passes to give away!
$98.00

Prize value
Lake Honghu In Concert - Melbourne
Event Date: 08/11/2018, 07:30 pm
A CLASSIC OPERA 'THE RED GUARDS ON LAKE HONGHU'
After 60 years of success and more than 3000 shows and now performing for the first time out of China in an Australian first, Hubei Symphony Orchestra of Hubei Provincial Opera and Dance Drama Theatre presents a modern concert production of the classic Chinese opera, Lake Honghu featuring seven principal singers and a chorus of forty.

These milestone concerts will take place at the Sydney Opera House on November 4 with celebrated Australian guest conductor Vanessa Scammell (My Fair Lady, The Merry Widow, South Pacific) and Melbourne Recital Centre led by resident conductor Luo Yilin on November 7 & 8.

The original opera was first performed in 1958 in Wuhan and was staged in Beijing in October 1959. Based on the true story, Han Ying and Liu Chuang led a team of guardians defending their homeland in the scenic Lake Honghu area in the summer of 1930. Interesting to note by means of its famous lake, Honghu City produces forty kinds of fish and an abundance of plants, such as the lotus, reed and a type of lack algae.

Blending western style opera with traditional Chinese and Hubei folk songs and lyrical ballad, the melody is cheerful, full of passion and shows the revolutionary pioneer's love of the hometown and hope for the happy lives and future. The music structure contains both strength of the Chinese traditional opera and English Opera. The lyrics and the music tell the story and focus on emphasising the character's internal emotions.
Loading Map ...

Location:
Melbourne Recital Centre, 31 Sturt Street,
Southbank Victoria,3006
Location:
Melbourne Recital Centre, 31 Sturt Street,
Southbank Victoria,3006

Contact Information:

Phone Number:

03 9699 3333