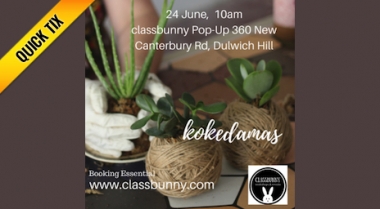 1

Double-Passes to give away!
$100.00

Prize value
Learn To Make Fabulous Kokedamas
Event Date: 24/06/2018, 10:00 am
Learn to make on trend string and moss gardens
Come and learn how to make kokedamas. Originating in Japan, Kokedamas are those wonderful, hanging string and moss gardens that you can make easily, once you know how! You will come away with 2 or 3 (depending how quick you are at stringing up!) stunning Kokedamas that retail at $40 each! So this workshop is great value as well as being so much fun.

You will definitely get your hands dirty and learn all about the sorts of plants that are suitable to 'kokadama' and how to create the appropriate soil mix. String up some sturdy succulents and take them home.

Kokedamas are perfect for small garden spaces and apartments and are very portable (no heavy pots!)
Loading Map ...

Location:
classbunny Pop Up,
Dulwich Hill New South Wales,2203
Location:
classbunny Pop Up,
Dulwich Hill New South Wales,2203