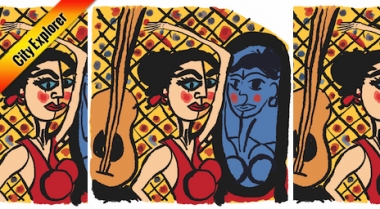 1

Double-Passes to give away!
$130.00

Prize value
Espana El Vito - The Spirit Of Spain
Event Date: 27/10/2018, 08:00 pm
A celebration of Spanish repertoire for the guitar and piano
ESPAÑA El VITO THE SPIRIT OF SPAIN - Starring Internationally acclaimed, Award Winning concert pianist and 'Young Steinway Artist' Nicholas Young and renowned 10 String Spanish Classical Guitarist Matthew Fagan aka Lord of the Strings!

Performing- RODRIGO-ALBENIZ-GISMONTI- DE FALLA & MORE

A celebration of Spanish repertoire for the guitar and piano, from classical masterpieces to flamenco styles of Paco De Lucia and Paco Pena and modern jazz.

In a world first collaboration, Nicholas Young and Matthew Fagan infuse the exhilarating traditional flamenco elements of Spanish Guitar into virtuosic classical piano masterpieces to form stunning new arrangements, celebrating the launch of Fagan's newest vinyl album "El Vito".

From the famous folk-inspired ballet music of Manuel de Falla's "The Three Cornered Hat" to the Spanish dances evoked in Isaac Albeniz's "Sevilla", "Asturias" and "Tango".

Joaquin Rodrigo's famous "Concierto de Aranjuez" is explored through its origins in "Tarantos" and "Rodena", combined with stunning orchestral realisation by piano, and Egberto Gismonti's "Frevo Rasgado", first brought to fame by guitarists Paco De Lucia and John McLaughlin, will be transformed for concert piano and 10-string guitar, pairing rhythmic drive with colourful sonority.
Loading Map ...

Location:
Utzon Room, Sydney Opera House,
Sydney New South Wales,2000
Location:
Utzon Room, Sydney Opera House,
Sydney New South Wales,2000

Contact Information:

Phone Number:

02 9250 7777