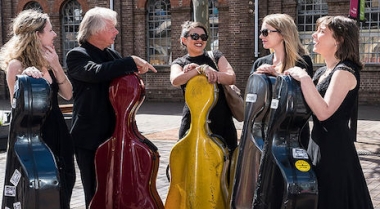 1

Double-Passes to give away!
$96.00

Prize value
The CELLISTS Of The Metropolitan Orchestra
Event Date: 30/09/2018, 02:30 pm
THE CELLISTS OF TMO TO SHINE IN NORTH SYDNEY
After four years of performance to full houses and enthusiastic audiences throughout Sydney,
the wonderful Cellists of The Metropolitan Orchestra make their much awaited North Sydney debut
at the elegant and acoustically spectacular Independent Theatre on Sunday the 30th of September.
Presented by The Independent as part of its hugely popular "Prelude in Tea" Sunday afternoon concert series,
guests will enjoy a scrumptious afternoon tea served from 2:30pm
followed by the sumptuous sounds of TMO's Cellists starting from 3:30pm.

For their first concert in North Sydney, the Cellists will dazzle the audience with a beautiful choice of music…
from much-loved chamber works to re-imagined popular classics and even some modern pop favourites
- all delivered in a refreshing style to highlight the deep, warm sounds of the cello.

Loading Map ...

Location:
The Independent Theatre 269 Miller St,
North Sydney New South Wales,2060
Location:
The Independent Theatre 269 Miller St,
North Sydney New South Wales,2060

Contact Information:

Phone Number:

+44299553000