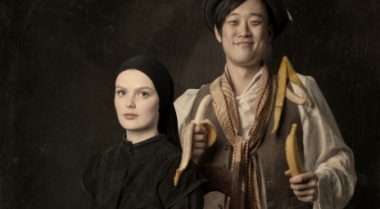 2

Double-Passes to give away!
$76.00

Prize value
The Sydney Hills Shakespeare In The Park
Event Date: 15/12/2017, 07:30 pm
Sport For Jove's Outdoor Summer Theatre Season
A riotously, raucous 9th Summer Festival about service, appetites and balancing acts - spanning the full reach of comedy - from Shakespeare's dark satirical masterpiece Measure For Measure to Goldoni's Italian dish of laughs The Servant of Two Masters.

What rules your life? The law? Your conscience? Your instinct? Faith? Should we be ruled by justice or mercy? Should a government legislate your sex life, your morality? How do you responsibly answer the prompts of your deepest, darkest impulses and remain an upstanding moral citizen? Shakespeare may as well have written this play yesterday - an Elizabethan Orange Is The New Black meets A Handmaid's Tale - Measure For Measure pushes the genre of comedy to it's darkest and most biting limits. A murky and morally ambiguous exploration of desire and power that will shock audiences with it's contemporary voice, will make you laugh and make you think twice.

Directed By Lizzie Schebesta
Bella Vista Farm Park : Dec 8th, 9th, 19th, 20th, 22nd, 27th, 29th and Dec 30th (@7.30pm)

Adapted from Carlo Goldoni's mid 18th Century Italian comedy, the Servant of Two Masters is a delicious feast of fun, following the story of an enterprising and perpetually hungry servant who endeavours to work for two masters in order to earn twice the meals! The Servant of Two Masters is Goldoni's most popular and loved comedy to this day, and his prolific writing career left a legacy to Italian Theatre.

Adapted and Directed By Francesca Savige and George Banders
Bella Vista Farm Park : Dec 15th, 16th, 18th, 21st, 23rd, 28th (@7.30pm); 30th (@3.30pm)

Botched marriages, dastardly disguises, cunning plots.... Men who are wildly unqualified for their jobs and unruly women pushed to the point of performing miracles. Join us this season for a feast of comedy - both light and dark - that will hopefully prove that out of chaos comes progress and satisfaction.
Loading Map ...

Location:
Bella Vista Farm Park, Baulkham Hills, NSW,
Baulkham Hills New South Wales,2153
Location:
Bella Vista Farm Park, Baulkham Hills, NSW,
Baulkham Hills New South Wales,2153

Contact Information:

Phone Number:

(02) 8970 1921