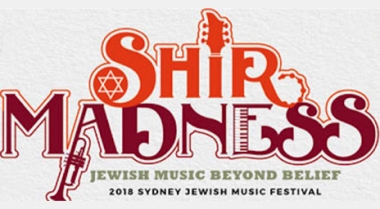 1

Double-Passes to give away!
$150.00

Prize value
Shir Madness - Jewish World Music Festival
Event Date: 07/10/2018, 11:00 am
SHIR MADNESS returns to Sydney celebrating the Jewish contribution to music.
SHIR MADNESS returns to Sydney celebrating the Jewish contribution to music with 11 hours of joyous, funny, soulful & rocking performances of every imaginable kind. 25 acts will play on multiple, concurrent stages and a single ticket covers all acts, all day.
There's a special kids' concert too, plus artisan stalls and demonstrations, kosher food and drink… and much schmoozing!

Headlining the festival is thrilling New York band Nefesh Mountain ("where Bluegrass and Jewish traditions meet… and fall madly in love!"). Critically acclaimed by Rolling Stone and Billboard magazine, Doni Zasloff and Eric Lindberg together with their band are pioneers of a transcendent new genre – fusing the apparently disparate worlds of American Appalachian and Jewish traditions! Refreshingly eclectic, wildly spiritual.
Super-popular Ilan Kidron and Glass crossover from jazz to pop and world music: Paris to New Orleans to Rio and beyond!
Arguably Australia's greatest contemporary composer, Elena Kats-Chernin, will play some of her most popular music and tell the stories around it from behind the keyboard. Melbourne musical comedian Jude Perl presents her catchy and hilarious satire, while Byron-based Temple of Song and multi-instrumentalist Shai Shriki marry music and spirit, leading a singing circle that weaves prayers, original texts and compositions in a total soulful musical experience that will have everyone singing!
Loading Map ...

Location:
Emanuel Synagogue, 7 Ocean Street,
Woollahra New South Wales,2025
Location:
Emanuel Synagogue, 7 Ocean Street,
Woollahra New South Wales,2025