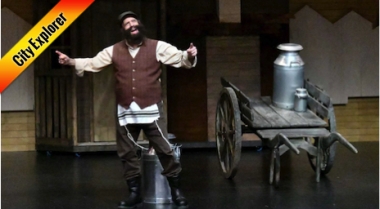 1

Double-Passes to give away!
$130.00

Prize value
Fiddler On The Roof
Event Date: 21/10/2018, 05:00 pm
Moriah College presents Fiddler on the Roof - October 2018
Fiddler is one of the greatest and most loved musicals of all time, capturing the hearts and imagination of audiences around the world.
It centres on village milkman Tevye, husband to Golde and father of five daughters, attempting to maintain his Jewish religious and cultural traditions as outside influences in turn-of-the-century Russia encroach upon the lives of the family and the entire village.

Full of humour, warmth, great characters and spectacular, show-stopping numbers like "Tradition", "If I Were a Rich Man", "Matchmaker", "Sunrise, Sunset" and "To Life!", its premiere (which featured Zero Mostel, Bette Middler, Julia Migenes and Beatrice Arthur among others!) ran to 3000 shows on Broadway. It won nine Tony Awards and has since been performed in almost every country on earth. The Hollywood adaptation starring Topol won 3 Oscars.

Moriah's production of Fiddler on the Roof promises to be a breathtaking theatrical experience and the perfect event to crown the school's 75th Anniversary celebrations.

Renowned for spectacular musicals that showcase its talented musicians, vocalists and actors, the school last staged the iconic show in 1994. Then, as now, it was helmed by indefatigable Director of Music and Co-curricular, Roberta Goot OAM.

"Fiddler is the perfect choice," Goot explains. "It is a beautifully crafted musical. Every song is memorable and it is full of great music and timeless wisdom. It is steeped in 'traditions' as we are at Moriah and, more than anything, is a story of family: it speaks to the challenges we all still face in some way – and highlights the need for balance, just like the fiddler!"

This historic production features current students as young as 9 as well alumni, current parents, parents of alumni, staff members, even grandparents!
Rehearsals have been taking place over many months and the level of professionalism, attention to detail, effort and resources employed point to a definitive production.

Loading Map ...

Location:
Moriah College, Queens Park Road,
Queens Park New South Wales,2022
Location:
Moriah College, Queens Park Road,
Queens Park New South Wales,2022

Contact Information:

Phone Number:

+44299553000