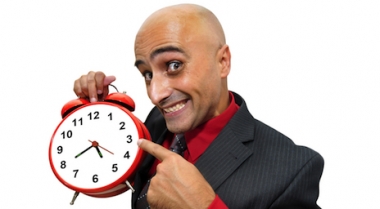 1

Double-Passes to give away!
$50.00

Prize value
Short And Sweet Week 8
Event Date: 23/03/2018, 07:30 pm
Week Eight – with 10 short plays nightly
Short+Sweet has spread the popular 10-minute format in theatre, dance, cabaret & comedy across Australia and the globe – with festivals now as far afield as Hollywood, India, Malaysia, Dubai and NZ.
Its Hollywood festival is one of the world's go-to showcases for new talent on stage and screen.
But the original Sydney theatre festival is now in its 17th year and has a new home in Surry Hills' Tom Mann Theatre.

Festival director Pete Malicki is a Short+Sweet legend, having written and directed for the fest for well over a decade.
This year S+S will again feature not only the judges' voting and the People's Choice audience votes,
but his director's picks – all heading for the April Gala Finals.

Short+Sweet reaches its final week of heats from 22 March… with most of the finalists already confirmed for both the semi-finals week - from Tues 27 March to Sun 1 April - and the ultimate Gala Awards Finals 5-7 April.

Among the ten last hopeful short plays on offer in week 8 are a brilliant parody of TV News with a satirical feminist twist, a delightful story of an old couple celebrating an anniversary (with a twist) and a job interview that gets seriously out of hand!

There's what appears to be a self-devised physical theatre piece for two when something seriously weird occurs,a lesson in life from an Indian grandma to her adolescent grandson, a bungled bank robbery and a pirate musical, aaarrrr!

Loading Map ...

Location:
Tom Mann Theatre Theatre, 136 Chalmers St,,
Surry Hills New South Wales,2010
Location:
Tom Mann Theatre Theatre, 136 Chalmers St,,
Surry Hills New South Wales,2010