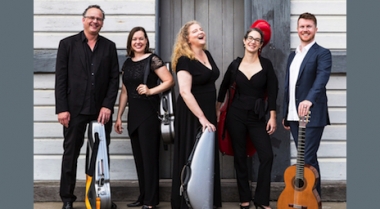 1

Double-Passes to give away!
$100.00

Prize value
IMAGINATIONS
Event Date: 02/09/2018, 03:00 pm
Dynamic virtuosity, dazzling collaboration… and art combined!
Art and music blend in dynamic collaboration when Matt Withers & Acacia Quartet present an exciting fusion of Australian works for classical guitar and string quartet in a special Father's Day afternoon concert on Sunday 2 September at the Independent Theatre, North Sydney.

Hear the winning works of the 2018 Matt Withers Australian Music Composition Competition as the ensemble perform alongside inspirational artworks by Queensland-based artist, Sue Needham.

Richard Charlton, Robert Davidson and the late Phillip Houghton are three of Australia's most respected composers whose music will inspire, move and entertain.

Loading Map ...

Location:
The Independent Theatre 269 Miller St,
North Sydney New South Wales,2060
Location:
The Independent Theatre 269 Miller St,
North Sydney New South Wales,2060