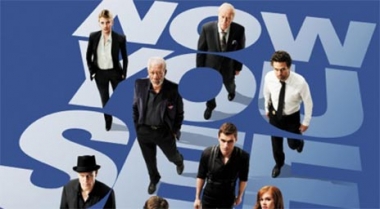 5

Double-Passes to give away!
$37.00

Prize value
Now You See Me
Event Date: 09/08/2013, 05:00 pm
Now You See Me pits an elite FBI squad in a game of cat and mouse
Description

Location & Map

Contact
Now You See Me pits an elite FBI squad in a game of cat and mouse against "The Four Horsemen", a magic super-team of the world's greatest illusionists. The Four Horsemen pull off a series of daring heists against corrupt business leaders during their performances, and then funnel the millions of stolen profits into their audiences bank accounts, while staying one step ahead of the law. FBI Special Agent Dylan (Ruffalo) is determined to make the magicians pay for their crimes-and to stop them before they pull off what promises to be an even more audacious heist. But he's forced to partner with Alma (Laurent), an Interpol detective about whom he is instantly suspicious. Out of desperation he turns to Thaddeus (Freeman), a famed magic debunker, who claims the bank heist was accomplished using disguises and video trickery. One thing Dylan and Alma agree on is that the Horsemen must have an outside point person, and that finding him (or her) is key to ending the magicians' crime spree. Could it be Thaddeus? Or Alma? Or could it really be... magic? The tickets we are giving away come as a voucher and will be valid at any participating cinema on any day the film is showing.
Warning

: file_get_contents(http://maps.googleapis.com/maps/api/geocode/json?address=Sydney+NSW%2C+Australia&sensor=false) [

function.file-get-contents

]: failed to open stream: HTTP request failed! HTTP/1.0 403 Forbidden in

/home/wombat/public_html/library/App/View/Helper/GoogleMap.php

on line

13 Warning

: Invalid argument supplied for foreach() in

/home/wombat/public_html/library/App/View/Helper/GoogleMap.php

on line

16

Location:
Most Cinemas,
Sydney New South Wales,2000
Location:
Most Cinemas,
Sydney New South Wales,2000