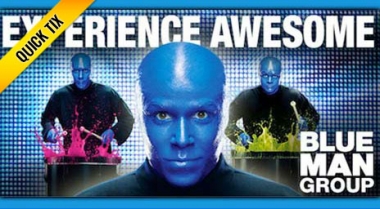 1

Double-Passes to give away!
$198.00

Prize value
Blue Man Group
Event Date: 13/08/2013, 07:00 pm
Blue Man Group is not just a show, it's a state of mindint
Description

Location & Map

Contact
Blue Man Group is not just a show, it's a state of mind. Best known for its wildly popular theatrical productions and concerts that combine electrifying music, sensational technology, comedy and multimedia theatrics to produce a totally unique form of entertainment, Blue Man Group creates experiences that defy categorization. Performances feature three bald and blue characters who take the audience on a journey that is funny, intelligent and visually stunning in a blissful party atmosphere. Blue Man Group is accompanied by a live band whose tribal rhythms help drive the show to its unforgettable climax. Having utterly redefined the term "live entertainment," Blue Man Group continues to reinvent itself. The wildly popular show now combines signature moments with breathtaking new pieces that simultaneously employ and skewer today's cutting edge technology. It makes for an explosive evening of entertainment. New sections include Blue Men interacting with "GiPads" (think Gigantic iPads), a funny and perceptive look at contemporary modes of communication; and a pulsating new finale featuring an original Blue Man Group music score that will have guests jumping to their feet.
Warning

: file_get_contents(http://maps.googleapis.com/maps/api/geocode/json?address=Pirrama+Rd+Near+The+Star%2C+Pyrmont+NSW+2009%2C+Australia&sensor=false) [

function.file-get-contents

]: failed to open stream: HTTP request failed! HTTP/1.0 403 Forbidden in

/home/wombat/public_html/library/App/View/Helper/GoogleMap.php

on line

13 Warning

: Invalid argument supplied for foreach() in

/home/wombat/public_html/library/App/View/Helper/GoogleMap.php

on line

16

Location:
Lyric Theatre, The Star, Pirrama Road,
Pyrmont New South Wales,2009
Location:
Lyric Theatre, The Star, Pirrama Road,
Pyrmont New South Wales,2009

Contact Information:

Phone Number:

1300 795 267