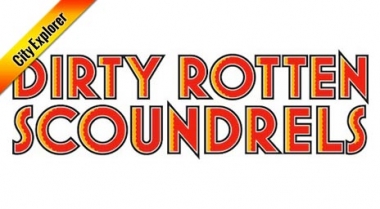 1

Double-Passes to give away!
$158.00

Prize value
Dirty Rotten Scoundrels
Event Date: 17/10/2013, 08:00 pm
...the devilishly cheeky, fun-filled Broadway musical.
Description

Location & Map

Contact
This all new Australian production of Dirty Rotten Scoundrels will be directed by Roger Hodgman (Chitty Chitty Bang Bang, Grey Gardens, Sweeney Todd), musically directed by Guy Simpson and choreographed by Dana Jolly. Producers Stephen Doorey and George Youakim from James Anthony Productions are thrilled with the calibre of the cast for their debut production. "We loved the musical Dirty Rotten Scoundrels the first time we heard the music," said Doorey and Youakim, "and we knew that we had to produce this musical in Sydney. To have assembled this sensational principal cast is the icing on the cake. We know that Sydney is going to fall in love with our mischievous scoundrels."

The plot is based on the highly successful and much loved 1988 film with music and lyrics by David Yazbek and book by Jeffrey Lane, and centres around the two con men, Lawrence Jameson and Freddy Benson, on the French Riviera.

When Freddy threatens to expose Lawrence's operation, Lawrence begrudgingly agrees to take him under his wing and tutor him in the 'art of the con'. The pair join forces and successfully work the Riviera until Freddy, frustrated by his apprentice 'monkey boy' role, abandons the partnership and starts to compete with Lawrence. It soon becomes apparent that the small French town of Beumont sur Mer isn't big enough for the two of them. They agree on a bet – the first one to extract $50,000 from a young female 'soap' heiress, Christine Colgate, wins and gets to stay. The other must leave town forever. A hilarious battle of 'cons' ensues that will keep audiences laughing, humming and guessing right to the end!
Location:
Theatre Royal,
Sydney New South Wales,2000
Location:
Theatre Royal,
Sydney New South Wales,2000

Contact Information:

Phone Number:

1300 723 038