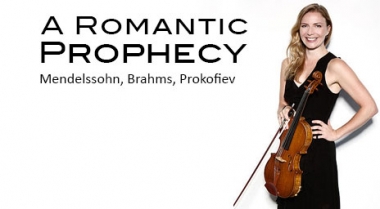 2

Double-Passes to give away!
$50.00

Prize value
A Romantic Prophecy
Event Date: 01/11/2013, 06:00 pm
Music by Mendelssohn, Brahms & Prokofiev
Description

Location & Map

Contact
Resonance presents a whirlwind of romanticism and features the amazing power of the viola. In a programme which touches upon the very outer tips of the great Romantic era, the music of Brahms, one of its key forces, takes a central role.

Outstanding viola player Ella Brinch joins Resonance pianist Chris Cartner for an evening of great emotional intensity and profundity.

Programme:
F. Mendelssohn: Sonata for Viola and Piano
J. Brahms: Sonata for Viola and Piano no.1 in F minor
S. Prokofiev: Suite from "Romeo and Juliet"

Tickets: $25 (concession $20).
Refreshments will be served afterwards.
Location:
Christ Church,
Lavender Bay New South Wales,2060
Location:
Christ Church,
Lavender Bay New South Wales,2060

Contact Information:

Phone Number:

0432 730 742