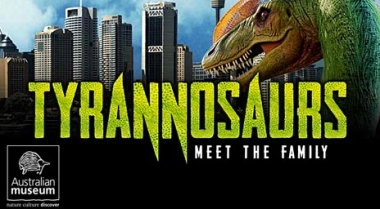 1

Double-Passes to give away!
$62.00

Prize value
Tyrannosaurs - Meet The Family
Event Date: 24/11/2013, 09:30 am
World first exhibition showcasing ancestors of Tyrannosaurus rex
Description

Location & Map

Contact
Tyrannosaurs, exclusive to the Australian Museum in Sydney, is the first exhibition in the world to shine a light on this legendary dinosaur family. If you thought you knew tyrannosaurs, think again.

In a world first, the Australian Museum presents Tyrannosaurs – Meet the Family, an innovative, multimedia experience showcasing the newly-revised tyrannosaur family tree. With over 10 life-sized dinosaur specimens on display, including one of the oldest tyrannosaurs, Guanlong wucaii, the exhibition runs from 23 November 2013 to 27 July 2014.

Showcasing a dramatic array of fossils and casts of tyrannosaur specimens, including never- before-seen specimens from China, Tyrannosaurs – Meet the Family is designed to provide a snapshot of dinosaur life and show how this group became the world's top predators with their massive skulls, powerful jaws and bone-crunching teeth.

With many family activities included, key highlights of the exhibition are:
• An Australian-first immersive multimedia experience featuring large-scale, immersive projections of dinosaurs running through Sydney streets
• The first exhibition to showcase the revised tyrannosaur family tree
• Meet Guanlong wucaii – the newly discovered feathery relative of T. rex
• Discover and learn how recent scientific findings confirm the links between dinosaurs and birds
• Using multi-touch technologies, visitors can compare their arm strength to that of a mighty T. rex.
• Grasp the enormous scale of geological time in the context of human evolution.

This is a FAMILY PASS and will be posted to the address in your member account.
The family pass is not bound to a specific day.
Location:
Australian Museum, 6 College St,
Sydney New South Wales,2000
Location:
Australian Museum, 6 College St,
Sydney New South Wales,2000

Contact Information:

Phone Number:

02 9320 6000