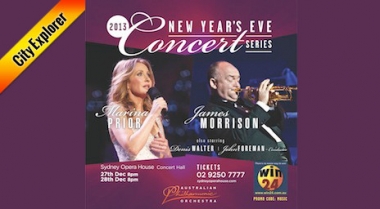 2

Double-Passes to give away!
$200.00

Prize value
Not New Year's Eve 2013
Event Date: 27/12/2013, 08:00 pm
A great line up for this year's concert including James Morrison and Marina Prior
Description

Location & Map

Contact
The 65 piece Australian Philharmonic Orchestra is again proud to present the keenly awaited 2013 Not New Year's Eve concert series at the outstanding Concert Hall. James Morrison, Marina Prior, and Conductor John Foreman, will perform spectacular music of jazz and classical. Incredible music and a hallmark celebration. We are delighted to welcome again the celebrated John Foreman as conductor, and our good friend Denis Walter as Master of Ceremonies. A gifted performer, Denis will also entertain in song alongside the orchestra. The beautiful and talented Marina Prior returns to the stage with her beautiful voice – a favourite of our audiences. The Australian Philharmonic Orchestra also welcomes on stage our dear friend James Morrison – one of the most extraordinary and talented musicians of our time.
Location:
Concert Hall, Sydney Opera House,
Sydney New South Wales,2000
Location:
Concert Hall, Sydney Opera House,
Sydney New South Wales,2000

Contact Information:

Phone Number:

02 9250 7777