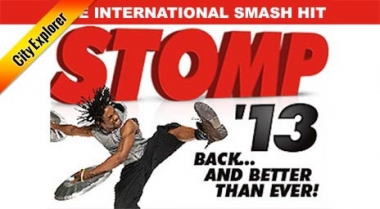 2

Double-Passes to give away!
$138.00

Prize value
Stomp
Event Date: 10/09/2013, 08:00 pm
THE INTERNATIONAL SENSATION
Description

Location & Map

Contact
Following their acclaimed performance at the Closing Ceremony of the London 2012 Olympics, STOMP returns to Australia from 13 August, with new routines, new choreography and new music.

Wordless, witty and fun, STOMP has become a global phenomenon over the last 22 years. Its universal language of rhythm, theatre, comedy and dance has resonated with audiences throughout the world, setting feet stamping, fingers drumming and adrenalin rushing for over 15 million people in 50 countries across 5 continents. STOMP is currently playing in the UK, US, throughout Europe and South America.

Eight performers use everything from supermarket trolleys to Zippo lighters, plastic bags to bin lids, and even the kitchen sink to hammer out an explosively feel-good rhythm.

STOMP is a show that continues to evolve – new music and choreography now join a fresh array of ordinarily mundane objects, onto which the cast work their musical magic. Two new routines that have been introduced in 2013 include "Trolleys" and "Frogs". Trolleys taps into the everyday experience of negotiating a busy shopping aisle with a fully laden supermarket trolley, with the piece transforming into STOMP's first ever fully fledged drum corps march. Certainly an eye-catching spectacle. Frogs explores the bizarre sonic possibilities of a variety of plumbing fixtures. It has to be heard to be believed!
Location:
Theatre Royal,
Sydney New South Wales,2000
Location:
Theatre Royal,
Sydney New South Wales,2000

Contact Information:

Phone Number:

1300 723 038