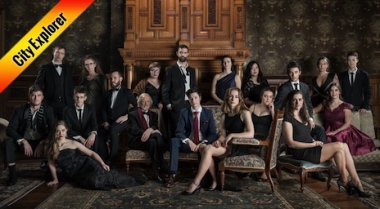 1

Double-Passes to give away!
$160.00

Prize value
A Baroque Christmas - Melbourne
Event Date: 08/12/2018, 03:00 pm
Magnificent! Transporting! Phenomenal!" - Schwäbische Zeitung
The Australian Chamber Choir is set to thrill audiences in Sydney and Melbourne this Christmas season
with a program of Baroque 'hits' to bring seasonal joy to music lovers of all tastes.

Starting in Sydney 24 November in the atmospheric locale and spectacular acoustic of St Mary's Cathedral Crypt, the choir continues with four performances in Victoria. At St Andrew's in Brighton on 8 December,
the audience can experience the results of an acoustic refurbishment that makes heavenly voices sound truly celestial!

In Europe across the centuries, Christmas has been a time when serious composers would compete
to write music with the maximum popular appeal for adults and children alike.
This program represents a "pick of the pops" by the Australian Chamber Choir's director, Douglas Lawrence:
Bach (In dulci jubilo, Singet dem Herren, O Jesulein süss), Gabrieli, Praetorius, Sweelinck, Schütz and Scheidt.
Douglas Lawrence OAM, a world-class organist, established the ACC in 2007. In its young life, the Choir has already toured Europe six times, giving some hundred concerts to rapturous sell-out audiences and winning unqualified critical acclaim.
With a reputation for its "lucidly articulated" performances of Bach's Motets, the choir has performed several times in Bach's church, St Thomas', Leipzig, including in the Bach Organ Festival.
In 2015, it was hailed in the Danish press under the heading "Australian Choir in the Super League"
and recognized as an honorary life member of Denmark's oldest classical music festival, the Sorø International.
Loading Map ...

Location:
St Andrew's Corner New & Church Street,
Brighton Victoria,3186
Location:
St Andrew's Corner New & Church Street,
Brighton Victoria,3186