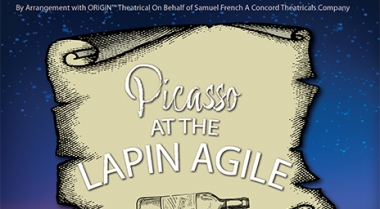 1

Double-Pass to give away!
$60.00

Prize value
Picasso At The Lapin Agile
Event Date: 10/12/2022, 02:00 pm
Proudly presented by Castle Hill Players at the Pavilion Theatre
Albert Einstein meets Pablo Picasso in a Parisian cafe in 1904, just before Einstein transformed physics and Picasso set the art world on fire. These two geniuses banter and muse on the century passed and the century yet to come with infectious dizziness. Montmartre locals, including the bartender and his mistress, Picasso's agent and his date, an elderly philosopher, a Countess, and an idiot inventor round out the ensemble and stamp their own indelible mark on proceedings. The final surprise patron to join the merriment at the Lapin Agile is a charismatic, dark haired, time traveller with blue suede shoes.

Renaissance man Steve Martin's first play, Picasso at the Lapin Agile is wildly inventive, revelling in ribaldry, witty wordplay, and a healthy sense of the absurd.
Loading Map ...

Location:
Doran Drive, Castle Hill Showground,
Castle Hill New South Wales,2154
Location:
Doran Drive, Castle Hill Showground,
Castle Hill New South Wales,2154