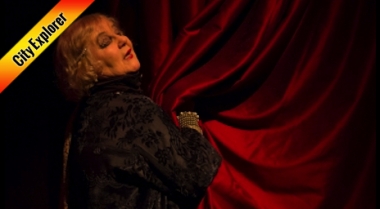 1

Double-Passes to give away!
$260.00

Prize value
Bijou
Event Date: 12/10/2018, 06:30 pm
A cabaret of Secrets & Seduction
A café-bar in Paris 1933. Wine flows, people chat, flirt and laugh while the music plays…but there's a new face in the crowd.

A ravaged figure in faded finery and fake pearls, enters. The evening takes an unexpected turn, as 'Madame Bijou' former Queen of the Demi-Monde, unleashes a string of intimate, colourful memories. Music of Satie, Weill, Hollander, Bruant accompanies her stories and songs.

This sumptuous cabaret peeps into the private, sensual world of a riveting Parisienne d'un certain age.

Bijou will surprise you at every turn. ​

'...memorable musical moments... truly beautiful harmonies...'
Review by Kim Townsend
Sydney Scoop

'BIJOU is a triumph; a glorious and uplifting look into the underground artistic world of post-war Paris.'
Review by Matthew Raven
The Buzz

'...a journey through time and space that is always entrancing... Four and a half stars'
Loading Map ...

Location:
Palais Royale,
Katoomba New South Wales,2780
Location:
Palais Royale,
Katoomba New South Wales,2780