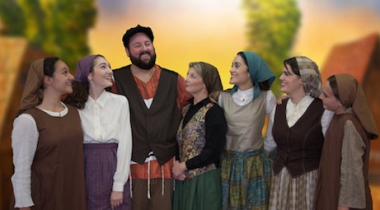 1

Double-Passes to give away!
$87.00

Prize value
Fiddler On The Roof
Event Date: 02/03/2018, 08:00 pm
The world's most loved, all-time record-breaking Broadway show returns to Sydney's south in March
This well-loved, all-time record-breaking Broadway musical returns to the Rockdale Town Hall in March 2018 with a superb cast,
headed by multi-award-winning entertainer ADAM SCICLUNA in the iconic lead role of Tevye.
Based on Sholom Aleichem's Tevye and his Daughters, FIDDLER ON THE ROOF is the beautiful story of the small,
traditional town of Anatevka, where Jews and Russians live in a delicate balance.
Through the eyes of the endearingly philosophical Tevye - a father of five daughters ("Five… daughters!") -
we watch as he defends and then is forced to challenge the time-honoured traditions of his village.
In a time riddled with conflict, we see his daughters grow up and fall in love and his community of loveable,
colourful characters endure and adapt to a new world.
ts famous songs include "If I Were a Rich Man", "Tradition", "L'Chaim (To Life)" and so many more…

Rich in historical and cultural detail, FIDDLER ON THE ROOF has touched audiences around the world with its humour, warmth and honesty.
Its universal themes of tradition, love and the challenges of modernity cut across barriers of identity, class,
nationality and religion, leaving audiences weeping tears of sadness, laughter and joy. Don't miss it!

Adam Scicluna returns to Rockdale as Tevye, one of the great roles in the musical theatre repertoire.
Adam is a multi-award-winning entertainer having been honoured with the Australian Entertainment Mo award;
Peter Allen Performer of the Year (2013 & 2012), the Australian Club Entertainment Award;
Male Vocal Performer of the Year (2008, 2007, 2006 & 2004) and many more.
Directed by Colin & Bob Peet, with musical direction from Peter Sampson and choreography by Chris Bamford.

Fiddler plays 2-11 March, Thurs to Sat 8pm, plus 2pm matinees on Sat & Sun
Loading Map ...

Location:
Reginald Theatre, Seymour Centre, City Road,
Chippendale New South Wales,2008
Location:
Reginald Theatre, Seymour Centre, City Road,
Chippendale New South Wales,2008