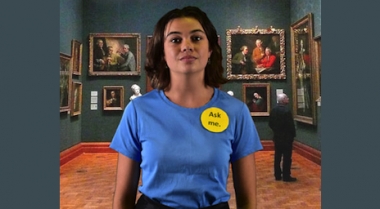 1

Double-Passes to give away!
$90.00

Prize value
Kiss Of The Gallery Guard
Event Date: 11/05/2018, 08:00 pm
Amber, you're famous! Everyone wants to hear more of your plain-speaking, unadorned philosophy of..
Young Amber leaves the outback under a cloud. She makes good in Sydney at the Art Gallery of NSW, then better in London… and even better in New York.
How did she do it? And what happens if she returns to Australia?
This clever new play from the prolific pen of Carol Dance (Future Seekers, Indian Embrace)
breaks the mould of traditional theatre by including piano music, a soirée atmosphere and a most unusual story. Scene Theatre Sydney returns to the Walsh Bay Arts Precinct of Sydney this May with the world premiere of Kiss of the Gallery Guard.
Directed by Murray Lambert with Anna Greig, Kiss of the Gallery Guard stars Cara Severino
(Girls Like That), Eli Saad (Beirut Adrenalin, Asylum, Future Seekers) and Chloe Schwank
(Julius Caesar, Cosi, Comedy of Errors), with pianist Philip Eames.
Kiss of the Gallery Guard is a mystery, a comedy and a romance. This tale of art theft, forgery and the meaning of art is both inspirational and entertaining. Suitable for all ages, it plays Fri-Sun from 11 May to 26 at the Philharmonia Choirs Hall in Walsh Bay.
Loading Map ...

Location:
Philharmonia Choirs Hall, Hickson Rd,
Walsh Bay New South Wales,2000
Location:
Philharmonia Choirs Hall, Hickson Rd,
Walsh Bay New South Wales,2000