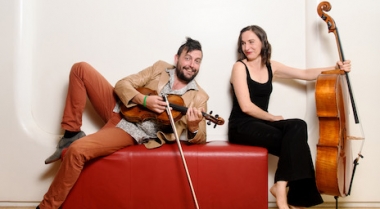 1

Double-Passes to give away!
$96.00

Prize value
Midsummer Mendelssohn Gala
Event Date: 29/07/2018, 02:30 pm
Flinders Quartet with Chris Moore: MIDSUMMER MENDELSSOHN GALA Prelude in Tea Concert
William Hennessy once said that all musicians possess a little of the actor within them. Flinders Quartet explores this idea in this unique concert program, giving Chris Moore the dual role of Shakespeare's Puck and violist. Plus the usual delicious Independent cakes and refreshments!
Flinders Quartet, directed by Richard Piper, together with composer Iain Grandage and violist Chris Moore,
reimagine Mendelssohn's 'A Midsummer Night's Dream' incidental score in a concert that will grab the imagination.
As a little entree, Chris will narrate Leunig's poignant 'The Curly Pyjama Letters' with Calvin Bowman's accompanying score.Commissioned by FQ in 2012, this work's delightful quirkiness has struck a chord with audiences around Australia.

Juxtaposing this is the purely romantic, melodic world of Brahms. Described as a man 'steeped in force', Brahms' G major quintet brings us back to the purity of music with musicianship of the highest order.

Flinders Quartet (Thibaud Pavlovic-Hobba & Nicholas Water, violins; Helen Ireland, viola; and Zoe Knighton, cello) is instantly recognisable as one of Australia's most loved chamber music ensembles.
Their dynamic performances of a full spectrum of repertoire have audiences and critics articulating their esteem, and the quartet is a highly-respected force in Australian chamber music.
Flinders Quartet with Chris Moore: Midsummer Mendelssohn Gala
Sunday, 29 July 2018 – The Independent Theatre, 269 Miller Street North Sydney
Part of the Prelude in Tea Series: Afternoon Tea from 2:30, Concert at 3:30
Felix Mendelssohn's arrangement of 'A Midsummer Night's Dream'
Incidental music by Iain Grandage intertwined with text from Shakespeare's play with Chris Moore (narrator)
Calvin Bowman 'The Curly Pyjama Letters' with Chris Moore (narrator) Johannes Brahms Viola Quintet No. 2 in G major Op. 111 with Chris Moore (viola)

Tickets: Adult $48, Concession and Under 30 $30, Student $22, Child $16

Loading Map ...

Location:
The Independent Theatre 269 Miller St,
North Sydney New South Wales,2060
Location:
The Independent Theatre 269 Miller St,
North Sydney New South Wales,2060

Contact Information:

Phone Number:

+44299553000