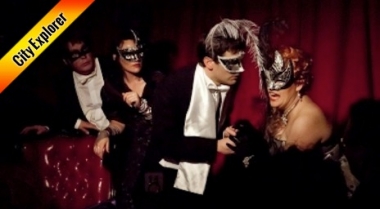 1

Double-Passes to give away!
$300.00

Prize value
Opera, Wine & Dine Series -
Event Date: 06/07/2018, 07:00 pm
Don your finest masquerade for an immersive performance of
Dine in one of Sydney CBD's most beautiful heritage listed dining rooms whilst luxuriating in some of the opera world's most beautiful music. Opera Bites has once again partnered with The Castlereagh Boutique Hotel to bring you an unforgettable evening of fully costumed popular opera complete with a bespoke menu and select fine wines to match. As you step through the doors of this breath-taking heritage listed dining room you'll find yourself immersed in the world of operatic splendour.

Join us in this hilarious re-telling of Johann Strauss' wonderful operetta "Die Fledermaus" – and remember to wear your finest masquerade costume since you might be invited to participate! Gabriel Eisenstein has to go to gaol tonight. First though, there is Prince Orlofsky's fabulous masked ball which he simply must attend. Among the (disguised) guests are his gaoler, Frank, his maid, Adele, and even his wife, Rosalinda. When he finally gets to gaol, he finds that someone else has been arrested in his place – someone who was at his house and in his dressing gown the previous evening!

Double Pass includes entertainment, 3-course bespoke menu and select fine wines to match.
Loading Map ...

Location:
The Castlereagh Boutique Hotel, 169 Castlereagh Street,
Sydney New South Wales,2000
Location:
The Castlereagh Boutique Hotel, 169 Castlereagh Street,
Sydney New South Wales,2000