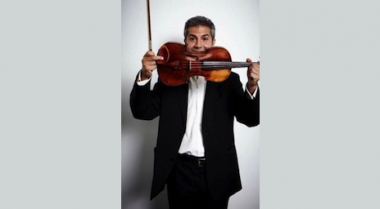 1

Double-Passes to give away!
$60.00

Prize value
The Balmain Sinfonia
Event Date: 10/06/2017, 05:00 pm
BORODIN, DVORAK & MOZART WITH PASSIONATE VIOLINIST
The Balmain Sinfonia continues its 2017 season – and celebrates its 100 th performance - with a wonderful concert of Borodin, Mozart and Dvorak, showcasing Australian violinist Tinel Dragoi and with its recently honoured artistic director Gary Stavrou OAM again holding the baton.

The latest in the popular series of Saturday afternoon concerts takes place on 10 June 5pm, at the Italian Forum auditorium in Leichhardt. And there will be a free glass of 'bubbly' for all in celebration of the Sinfonia
reaching its 'ton'!

Borodin's vivid tone poem In the Steppes of Central Asia begins with a peaceful Russian song then paints a
scene with the approach of horses and camels and the bizarre and melancholy notes of an oriental melody.

"A caravan approaches, escorted by Russian soldiers, and continues safely on its way through the immense
desert. It disappears slowly. The notes of the Russian and Asiatic melodies join in a common harmony which

dies away as the caravan disappears into the distance." In his Violin Concerto No.5, Mozart's musical
invention takes on an aspect of caprice that we rarely encounter in his other major instrumental works.

Melodies pour abundantly from his pen with the flow of music is often interrupted for fascinating but
inexplicable digressions. Dvorak broke new ground with the Symphony No. 8, with music steeped in the
flavour and atmosphere of the Czech countryside and folk tunes. Dvorak includes sounds from nature,
particularly hunting horn calls, birdsong and dramatic fanfares that suggest non-musical images.

Borodin : In the Steppes of Central Asia | Borodin : Prince Igor Overture
Mozart : Violin Concerto No. 5 | Dvorak : Symphony No. 8
Loading Map ...

Location:
Italian Forum, 23 Norton Street,
Leichhardt New South Wales,2040
Location:
Italian Forum, 23 Norton Street,
Leichhardt New South Wales,2040

Contact Information:

Phone Number:

(02) 9181 3929