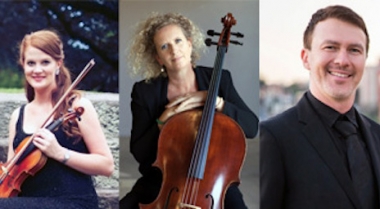 1

Double-Passes to give away!
$96.00

Prize value
The Classics
Event Date: 25/11/2018, 02:30 pm
STREETON TRIO'S 'CLASSIC" SCHUBERT & BEETHOVEN SUNDAY TREATS
On Sunday 25th November at 2:30pm, join the Streeton Trio - "Australia's most internationally successful piano trio" and winners of the 2011 Musica Viva Chamber Music Competition - for a bewitching offering of Schubert and Beethoven Piano Trios entitled simply "The Classics".
The latest 'Sunday afternoon treat' in the popular Prelude in Tea series comes – as always -
with a delicious afternoon tea, all included in the ticket price at the Independent Theatre in North Sydney.

Sydney-based Streeton Trio (Emma Jardine on violin, Trish O'Brien guest cello and Benjamin Kopp, piano)
perform Beethoven's much-loved "Archduke" Piano Trio in B flat major Op.97 and Schubert's glorious Piano Trio in E flat major D.929.
'Australia's most internationally successful piano trio,' the Streeton Trio was formed in 2008, in Geneva, Switzerland, by three young Australian musicians.
In 2010, the trio was selected to be a part of the prestigious European Chamber Music Academy, where it was in residence for three years.
Winner of the 2011 Music Viva Chamber Music Competition, the Streeton Trio has been laureate of several prestigious international competitions and in 2012, the trio was featured as Musica Viva's Rising Stars ensemble. The trio has released four CDs, to international acclaim, which are frequently featured on ABC FM and the MBS Networks.
Loading Map ...

Location:
The Independent Theatre 269 Miller St,
North Sydney New South Wales,2060
Location:
The Independent Theatre 269 Miller St,
North Sydney New South Wales,2060