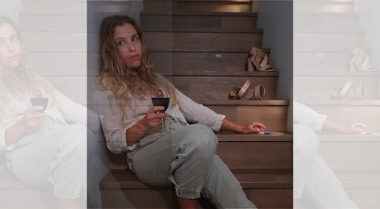 1

Double-Pass to give away!
$52.00

Prize value
A Few Things That Happened On The Way To ...
Event Date: 11/10/2022, 06:30 pm
Being loved? Sounds fucking terrifying.
This dark comedy follows Annie as she beautifully, hilariously, and tragically negotiates the possibility of being pregnant for the second time in her life.

Waiting for her pregnancy test timer to go off, Annie has no idea what she is supposed to be feeling, but she is almost certain that what she is feeling isn't just bloating from the pizza she had for breakfast.

In these 'three minutes', Annie is transported to the first time she thought she might have been pregnant and finds she has no choice but to finally confront the painful experiences she's been through 'on the way to now'.

Here, now, the second time, Annie is in a fairytale relationship with Freddie: a man who finds a way to say 'I fucking adore you' through only his smile and Annie finds herself realising that maybe, just maybe, love isn't meant to hurt.

Maybe love is meant to feel good after all.
Loading Map ...

Location:
Queen Victoria Women's Centre - Millarri Murnmut, 210 Lonsdale St,
Melbourne Victoria,3000
Location:
Queen Victoria Women's Centre - Millarri Murnmut, 210 Lonsdale St,
Melbourne Victoria,3000