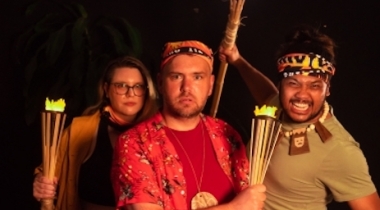 3

Double-Passes to give away!
$50.00

Prize value
Completely Improvised Survivor
Event Date: 06/10/2022, 07:15 pm
An unscripted parody of pop culture's most infamous reality TV show
Join us each night as the contestants fight their way through fictional tribal councils, playable onstage challenges, and Jeff Probst's meddling to be crowned the sole Survivor by the audience. Don't forget to keep an eye out for the real hidden immunity idol stashed on stage – it could be anywhere.

The all-star cast features some of Australia's top tier improvisers, including alumni of The Big HOO-HAA!, The Improv Conspiracy, Impro Melbourne, The Upright Citizens Brigade Theatre, Completely Improvised Potter, Completely Improvised Shakespeare, and more! They will backstab, manipulate, and schmooze their way to victory, live, right before your eyes. It's all made up on the spot, so every night is a brand-new show with fresh heroes, villains, and goats.


Contact: info@soothplayers.com with questions, tickets available at the URL below
Loading Map ...

Location:
Steps Gallery - Lygon Street,
Carlton Victoria,3053
Location:
Steps Gallery - Lygon Street,
Carlton Victoria,3053