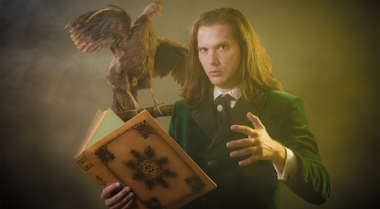 2

Double-Passes to give away!
$74.00

Prize value
David Massinghams Little Sketch Book Of Horr...
Event Date: 14/10/2022, 08:30 pm
A solo sketch comedy spookshow at Melbourne Fringe Festival
Prepare yourself for hilarious tales of macabre from sketch comedian and not-particularly-spooky guy David Massingham (Murder Village, The Big HOO-HAA! Melbourne, Sketch Me Like One of Your French Girls).

Following its critically praised Melbourne Comedy Festival run, Massingham's sketch comedy spooktacular Little Sketch Book of Horrors is back for a return season... just in time for Halloween.

GASP! as Massingham whips up hilariously chilling sketch monologues!

SCREAM! at the appearance of eerily inventive characters!!

SQUEAL! at comedy that comes in threes!!!

What are you waiting for ghouls? This Fringe, channel your inner-Vincent Price and find out why Melbourne International Comedy Festival audiences called this "a must-see show" (Weekend Notes) and "a glorious masterpiece of witty wordplay" (The Plus Ones). Join this Raw Comedy state finalist and national improv champion for a sketch storytime session to die for.
Loading Map ...

Location:
The Butterfly Club - Downstairs 5 Carson Place,
Melbourne Victoria,3000
Location:
The Butterfly Club - Downstairs 5 Carson Place,
Melbourne Victoria,3000