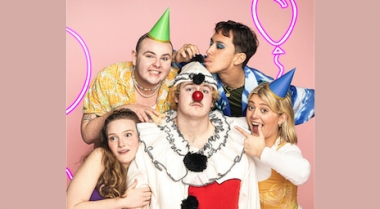 1

Double-Pass to give away!
$60.00

Prize value
How To Be A Person When The World Is End...
Event Date: 18/10/2022, 08:00 pm
A contemporary analysis of how it feels to be alive; through love, grief, sex, and the Apocalypse.
How To Be A Person When The World Is Ending
Written by: Myfanwy Hocking
Directed by: Meg Dunn

"I was expecting a knock. I was expecting a crash. I was expecting a fucking bang. I was expecting the walls to shatter and the ground to open to molten magma and my house to float down the street. I was expecting it to boil then freeze then boil again, but as far as I've seen, the end of the world is watching shit TV with you fucks."

The world is ending. For real this time. Maybe. It's a very big deal. Four friends are waiting expectantly. A couple plays out their parts. A girly gets really buff. People try some kinky stuff. And a sad clown gets up and goes to work.

HOW TO BE A PERSON WHEN THE WORLD IS ENDING is a post dramatic exploration of what it means to be a member of Generation Z at present. It captures the essence of hurt, apathy, boredom and hilarity that comes with being expected to exist in an expansive way whilst being told we have a few good years left. Exploring relationships, work culture, Dungeons and Dragons, nihilism, pessimism and porn, it is a funny, shocking, meditation on youth. Written by Myfanwy Hocking, HOW TO BE A PERSON is a dynamic, challenging, new Australian work that explores the hyper lyrical side of writing. Performed by a phenomenal cast of artists, audiences will be left in awe of this bold new production.

Melbourne Fringe will be hosting the show's national premiere, off the back of the Edinburgh Festival. This show is the proud recipient of the George Fairfax Memorial Award.
Loading Map ...

Location:
Theatre Works, 14 Acland Street,
St Kilda Victoria,3182
Location:
Theatre Works, 14 Acland Street,
St Kilda Victoria,3182