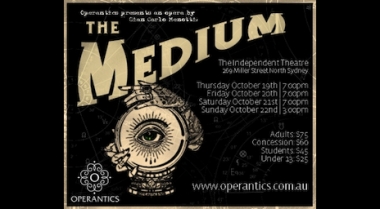 1

Double-Pass to give away!
$150.00

Prize value
Operantics Presents The Medium
Event Date: 19/10/2023, 07:00 pm
Step into the enigmatic world of Madame Flora's parlour, where deception and desperation intertwine
Set in the aftermath of World War II, and centres on Madame Flora, her daughter Monica and Toby, a mute servant boy Flora adopted but is mercilessly cruel towards. Madame Flora makes the family's meagre living by conducting sham seances for grieving parents, using Monica to pretend to be the spirit of their dead children. When during a seance Flora suddenly senses a hand around her throat, she becomes convinced that the spirit world is seeking revenge. As the tension builds, secrets unravel, and darkness descends upon the parlour, "The Medium" culminates in a shocking climax that will leave you breathless.
"The Medium" will leave you haunted and moved, long after the final curtain falls. Experience the power of Menotti's masterpiece in this unforgettable theatrical journey.
Learn more about the production here: https://www.operantics.com.au/the-medium
Loading Map ...

Location:
The Independent Theatre, 269 Miller St,
North Sydney New South Wales,2060
Location:
The Independent Theatre, 269 Miller St,
North Sydney New South Wales,2060