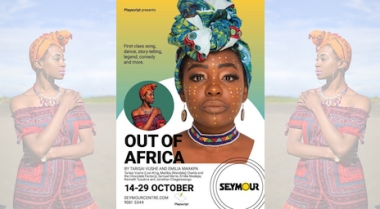 1

Double-Pass to give away!
$76.00

Prize value
Out Of Africa
Event Date: 14/10/2022, 08:00 pm
Joyful, musical, energetic story-telling for Sydney season
Zimbabwe-born singer-actor Tarisai Vushe, dancer Emilia Nwakpa, and rapper and poet Samuel Barrie, debut the power-packed musical about their amazing lives at the Seymour Centre Sound Lounge in October.
They're supported by Kenneth Tusubira (dance, drums) & Jonathan Chaga (keyboard).

Co-written with Playscript's Geoffrey Sykes, Out of Africa is a celebration of their shared journeys from African villages to suburban Sydney!

In an exciting collage of traditional African and modern Australian song, dance, storytelling, rap, legend, comedy and more, their inspiring migrant stories will entrance audiences.
Along the way audiences are invited to share visions of Africa's past and Australia's present – with dramatic differences… as well as some surprising common ground - along the way!
Tarisai Vushe has had an outstanding career as singer since arriving in Australia 20 years ago.
She's featured on TV (including Australia's Got Talent), in lead roles in touring musicals,
including in the Lion King and Madiba (Mandela) and, most recently, Charlie and the Chocolate Factory.

She is joined by rap artist and poet Samuel Barrie, and accomplished dancer Emilia Wakpa, and supported by talented Ugandan-born Kenneth Tusubira with drums and dance, acclaimed Zimbabwean keyboard player Jonathan Chagaresango and accomplished dancer Emilia Wakpa.
Loading Map ...

Location:
Seymour Centre Sound Lounge, Corner City Road & Cleveland Street,
Redfern New South Wales,2016
Location:
Seymour Centre Sound Lounge, Corner City Road & Cleveland Street,
Redfern New South Wales,2016

Contact Information:

Phone Number:

(02) 9061 5344