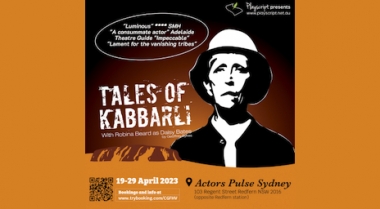 2

Double-Passes to give away!
$68.00

Prize value
Tales Of Kabbarli
Event Date: 09/04/2023, 07:00 pm
A lifetime search for justice and meaning midst tribes of the Western desert.
Daisy Bates is an Australian legend. She spent decades living with tribal aboriginals of the Western desert. She lived at Ol0dea South Australia, near a traditional meeting place, and witnessed the tragic impact of the railway and western settlement.

"One knows they are in the presence of a consummate actor." (Adelaide Theatre Guide) "Beard's performance as Bates in Geoffrey Sykes' one-woman play is so featherlight she barely seems to be acting. She creates a character as soft as early morning light and just as luminous. The music of her lilting Irish accent effortlessly entwines with the poeticism of Sykes's script ****." (Sydney Morning Herald
Loading Map ...

Location:
Actors Pulse 103 Regent Street ,
Redfern New South Wales,2016
Location:
Actors Pulse 103 Regent Street ,
Redfern New South Wales,2016