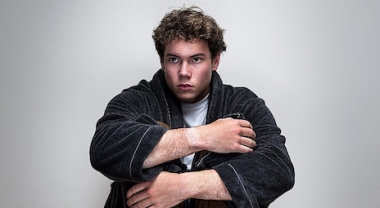 1

Double-Pass to give away!
$90.00

Prize value
THE DISAPPEARANCE
Event Date: 10/10/2023, 07:30 pm
The Disappearance: based on Kin Platt's book "The Boy Who Could Make Himself Disappear"
A powerful, moving and joyful play that confronts mental illness and diversity with heart and with humour, opens for a two-week Sydney season from 10 October.

Lambert House Enterprises is proud to present a full season of the play that brought huge acclaim in its May one night benefit performance for the Actors Benevolent Fund.

The Disappearance was described by critics who were in the audience as "like capturing lightning in a bottle". And more:
"'Matilda' for a new generation" - Honi Soit;
"Gentle humour and compassion... Gordon Vignelles' performance is touchingly real" - Stage Whispers.
The Disappearance is a re-working of the best-selling novel The Boy Who Could Make Himself Disappear and partially based on the classic British film "Baxter".

The story is of a young American teenager facing the combined challenge of his parents' disintegrating marriage, relocation to Australia and his ongoing attempt to overcome a debilitating speech impediment.
His overwrought mother adds to his problems and, as things begin to explode for him, he decides to 'disappear'.
Three people — a loving neighbour and her French boyfriend and an equally caring speech therapist/analyst - give hope that his future may be more positive.

Sympathetic, moving and intensely concerned with the problems of mental health, the play is often humorous but never sentimental.

Directed by Les Solomon, The Disappearance features some of Sydney's finest young performers and established actors including: Kath Gordon (All My Sons), Rebecca Matthews (The Artful Dodger) and Mo Lovegrove (Jagged Little Pill, Into the Woods).
In the central role of 'Roger' is meteoric young talent Gordon Vignelles (pictured above) whose previous credits include a starring role in a film he co-produced and screened at the Cannes Film Festival and a recent hit cabaret season co- starring Liam Faulkner.
Loading Map ...

Location:
Chippen St Theatre, 45 Chippen St ,
Chippendale New South Wales,2008
Location:
Chippen St Theatre, 45 Chippen St ,
Chippendale New South Wales,2008