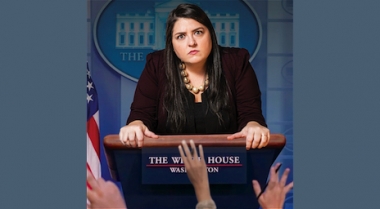 1

Double-Pass to give away!
$50.00

Prize value
The Briefing
Event Date: 16/10/2022, 08:30 pm
A press conference with the USA's second most notorious liar.
Melissa McGlensey is tackling the dumpster fire of news from the USA in the only way she knows how – through comedy.
You're invited to be part of the press pack at The Briefing – a send-up of right-wing politics that takes
aim at the USA, only to catch Australia in its crosshairs as well.
Behind the podium, McGlensey transforms into right-wing blowhard Sarah Sanders, taking you on a journey of political theatre, partisan nonsense and dark humour, before giving you the right of reply in an improvised Q&A session that promises to yield more laughs than actual answers. You've never experienced a presser like this before. Don't forget to bring your questions!
The Briefing is directed by Alasdair Tremblay-Birchall, a stand up and sketch comedy performer ('Magma', 'Teleport') who writes jokes for TV like Shaun Micallef's Mad as Hell and co-hosts the podcast, Two In The
Think Tank.
The Briefing is written and performed by Melissa McGlensey, a writer (The Onion, Reductress, The Betoota Advocate) and improviser/comedian (Completely Improvised Survivor, The Big HooHaa!, Soothplayers) originally from the USA. As an expat and former journalist, McGlensey offers a unique perspective on the important political moment we are living in.
Loading Map ...

Location:
Festival Hub: Trades Hall - Music Room, Cnr Lygon & Victoria Sts,
Carlton Victoria,3053
Location:
Festival Hub: Trades Hall - Music Room, Cnr Lygon & Victoria Sts,
Carlton Victoria,3053