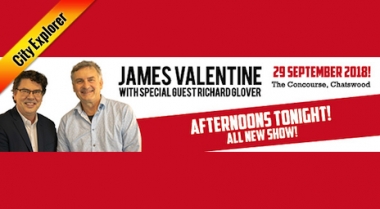 1

Double-Passes to give away!
$110.00

Prize value
James Valentine Live
Event Date: 29/09/2018, 07:30 pm
"ABC's hilarious radio show – but after dark! And in a theatre"
Afternoons Tonight! returns to Chatswood Saturday 29 September with an all new show and special guest Richard Glover.

"It was pretty damn good last year, but I'm hoping to really get it right this time," commented James. And in what may turn out to be a once-only appearance, James will be joined by special guest Richard Glover. "Richard and I have had a five minute conversation every day for twenty minutes. We are both intrigued to find out what happens if we talk for an hour."

All the regular segments, and other stuff, will randomly emerge… as will the first full-length conversation between Richard Glover and James Valentine. If you saw last year's show and loved it, if you listen to the radio version, or you just like to laugh, then don't miss this all new live show.

Afternoons Tonight! is a fantastically funny and interactive night at the theatre and a great insight into how talk radio really works.

Expect the latest versions of such legendary segments as This Is What I Live With, Ex, The New Normal and Petty Crime Stoppers… they'll all be there. Move over Possum Woman and Eric the Breastfeeder – we have new callers you just have to hear! Who knows, maybe he'll even attempt… Nothing.

James Valentine is one of Australia's most loved radio presenters and in a long and eclectic career has worked as a journalist, author, television host and musician. A saxophonist, he has performed with many acclaimed acts including: Jo Jo Zep, Models and Absent Friends. James also hosts the ABC Podcast Head Room, which expands on musings and questions posed during James' Afternoons radio show from 1-3pm weekdays on ABC Radio Sydney.

Richard Glover has been with ABC Radio Sydney since 1996, before which he worked for 12 years as a print journalist at the Sydney Morning Herald, including stints as SMH's News Editor, Arts Editor and European Correspondent. Richard is the author of more than a dozen books.
Loading Map ...

Location:
The Concourse ,
Chatswood New South Wales,2067
Location:
The Concourse ,
Chatswood New South Wales,2067