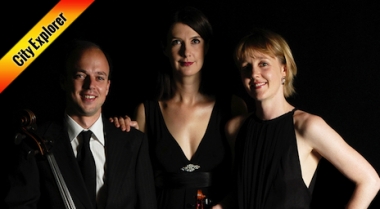 1

Double-Passes to give away!
$96.00

Prize value
The Seraphim Trio Present: NUMBER ONES
Event Date: 27/05/2018, 02:30 pm
Award-winning Australian ensemble, the Seraphim Trio return to the Independent Theatre
Part of the popular Prelude in Tea series that always includes a sumptuous selection of cakes and refreshments, this performance features a Schumann and Jankowski Trio No 1 - as well as Mozart's No 2!

The piano trio may have been a late comer to chamber music repertoire but Mozart's Trio in G major - his first serious chamber work - is thrilling. The composer's classical style is echoed in Schumann's late foray into the genre and his first trio is lovingly and meticulously prepared as a present for his wife Clara's 28th birthday, unfolding with grandiosity and romanticism.
Between these two, Seraphim is delighted to give the world premiere of Jakob Jankowski's Piano Trio No.1,
generously commissioned by Graham Abbott.

Over the last two decades, Seraphim - Helen Ayres, Anna Goldsworthy and Tim Nankervis - have remained steadfastly committed to chamber music.
Winners of the Piano Trio Prize and the Audience Choice Award at the Australian National Chamber Music Competition in 2001, Seraphim Trio has regularly performed at the Melbourne International Arts Festival, the Port Fairy Spring Music Festival, the Adelaide Festival of Arts, the Peninsular Summer Music Festival and in 2013, Opera Australia's Ring Festival in Melbourne.
Alongside its acclaimed subscription series, Seraphim Trio is frequently broadcast on ABC Classic FM
and on the MBS network and maintains a robust commissioning program.

Seraphim frequently collaborates with Australia's leading musicians: most recently Diana Doherty, Paul Dean, Lisa Harper-Brown and David Elton. The group has studied in Germany with Hatto Beyerle and in Australia with William Hennessy,
Eleonora Sivan, Mark Mogilevski, Ronald Farren-Price and Lois Simpson.

Don't miss this delightful - and tasty - musical treat!
Loading Map ...

Location:
The Independent Theatre 269 Miller St,
North Sydney New South Wales,2060
Location:
The Independent Theatre 269 Miller St,
North Sydney New South Wales,2060

Contact Information:

Phone Number:

02 99553000