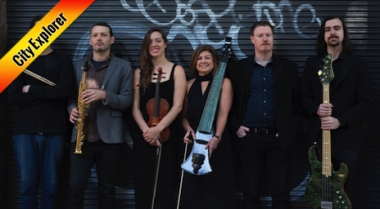 1

Double-Passes to give away!
$96.00

Prize value
My Heart So Grieves
Event Date: 28/01/2018, 02:30 pm
The Independent Theatre presents Prelude in Tea The Marais Project and Elysian Fields
Early music specialists, The Marais Project and electric viola da gamba ensemble Elysian Fields return to
North Sydney's Independent Theatre to present a delicious one-off program titled, "My Heart So Grieves".
Directed - as ever - by the versatile Jenny Eriksson, the innovative program features music inspired by poets of the 16th century.
It is the first 2018 concert in the theatre's popular Prelude in Tea chamber music series
which includes afternoon tea with refreshments and a mouth-watering array of cakes and fruits.

The first half of the concert showcases The Marais Project – Dutch-born tenor Koen van Stade, lutenist Tommie Andersson and Jenny Eriksson
on viola da gamba - performing songs of love and loss from the Elizabethan era, including work by the incomparable John Dowland.
Singer van Stade features on The Marais Project's most recent CD, "Spinning Forth" which has garnered rave reviews.

After interval, Elysian Fields will play music including pianist/composer Matt McMahon's gorgeous song-cycle,
"What Should I Say", settings of poems by Thomas Wyatt, courtier to King Henry VIII.

Elysian Fields features some of Australia's finest jazz musicians and composers including Matt Keegan, saxophones and Matt McMahon, piano. Joining them and Eriksson is legendary bassist Jonathan Zwartz, singer Susie Bishop and drummer Finn Ryan.
John Shand, the Walkley-winning SMH reviewer, wrote of the world premiere of Matt McMahon's song cycle:
"Here was an enthralling dialogue between past and present. McMahon has preserved Wyatt's prevailing mood of courtly gentleness,
but spiced it harmonically and texturally…The songs were exquisitely sung by Susie Bishop."

Loading Map ...

Location:
The Independent Theatre 269 Miller St,
North Sydney New South Wales,2060
Location:
The Independent Theatre 269 Miller St,
North Sydney New South Wales,2060