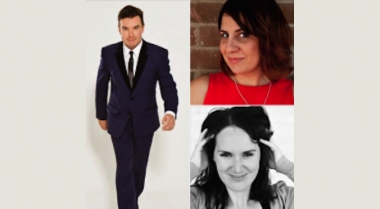 2

Double-Passes to give away!
$40.00

Prize value
The Laugh Stand Gala: Emma Zammit & Greg Burns...
Event Date: 30/05/2017, 08:00 pm
Award winning comedian Emma Zammit, UK radio, TV and standup star Greg Burns & more at Harold Park!
We have a pure gold Comedy Gala lined up to end a majestically mirthful month on Tuesday 30 May at Sydney's original home of comedy, Harold Park Hotel!

Your Emcee Emma Zammit won the 2008 'Quest for the Best', was a NSW State Finalist for Raw Comedy in 2009 and was handpicked for Melbourne International Comedy Festival's 'Comedy Zone' AND Festival Roadshow Tour in 2010.

"Emma Zammit did an excellent job of keeping the audience bemused....her delivery and comic timing was spot on," Australian Stage.

Your Headliner, GREG BURNS, is an award winning UK comedian and radio host (Capital FM, Nova 969) who has worked on such shows as 'Have I Got News For You' and 'The Catherine Tate Show', and 'The Office Christmas Special', in a part written specifically for him by Ricky Gervais.

"As loveable a comedian as you're likely to find. Confident, funny and clever," The Sunday Times.

Your Featured Support is EMMA MALIK, a rising star of Sydney Comedy!

Straight out of England, Emma looks like an English rose but struggles to behave like one. With a champagne flute at hand, this animal trainer turned comedian will open her charming, yet oh so dirty mouth, and tell you things David Attenborough never would. 

With special guests: Fletcher Lowe, Marty J Wong, Dane Hiser and Andrew Hastings!
Loading Map ...

Location:
Harold Park Hotel, 70A Ross Street,
Glebe New South Wales,2037
Location:
Harold Park Hotel, 70A Ross Street,
Glebe New South Wales,2037