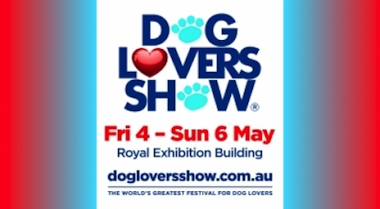 1

Double-Passes to give away!
$70.00

Prize value
Melbourne Dog Lovers Show 2018
Event Date: 04/05/2018, 09:30 am
The Melbourne Dog Lovers Show returns to the Royal Exhibition Building from 4-6 May!
What better way to celebrate the Year of the Dog than at the multi-award-winning Melbourne Dog Lovers Show returning to the Royal Exhibition Building, Friday 4 to Sunday 6 May!

This year's theme is 'Dog Sports' with the first ever COMMON WOOF GAMES presented by Farmer Dave Graham and his band of canine superstars. Dr Katrina Warren & the Wonderdogs will present the Opening Ceremony to kick off 3 days of thrilling dog sports.

The 2018 Show highlights include the Royal Canin Arena Track & Field and Ball-sport events, the inaugural Sheep Dog Speed Trial competition, a splash-tastic aquatic show from Black Hawk DockDogs® and the Dueling Dogs Wave competition.

An array of educational talks will be hosted at the Pet Circle Stage by the likes of Dr Katrina Warren & Kelly Gill, Dr Harry Cooper, TV star Andrew Morley and Luke Hura, Australia's leading entertainment animal trainer alongside 'Toto' from The Wizard of Oz Musical currently touring Australia.

Australia's most famous canine Instagram stars will be on show at The Insta-Pooch Zone as they strut down the red carpet and greet the paparazzi.

The Dog Adoption Zone will also be returning with twice as many rescue groups and a dedicated Dog Adoption Stage to help educate and inform dog lovers about the world of dog adoption. Since 2013, the Dog Lovers Show has helped more than 2,000 dogs find loving homes.

More than 120 breeds will be on show with over 50 DOGS Victoria Breed Clubs exhibiting.

What better way to celebrate the Year of the Dog!
Loading Map ...

Location:
9 Nicholson Street,
Carlton Victoria,3053
Location:
9 Nicholson Street,
Carlton Victoria,3053

Contact Information:

Phone Number:

(03) 9696 9961