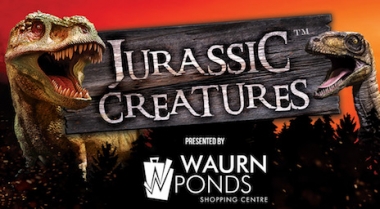 2

Family-Passes to give away!
$130.00

Prize value
Jurassic Creatures
Event Date: 09/01/2023, 11:00 am
Jurassic Creatures, the original, will be taking over Geelong.
Jurassic Creatures, a realistic animatronics Exhibition like no other, will capture the imagination of children and parents alike with over 30 Dinosaurs and spectacular activities that immerse you in a prehistoric time.
Adding to the experience will be the free LIVE show Buddy and Tiny from the incredibly popular Dinosaur Train, all included in your ticket price.
Jurassic Creatures lets you explore a world full of life-like moving dinosaurs and be amazed and thrilled as the greatest creatures ever to walk the earth return and come alive before your eyes.
You will marvel at the story of their 165-million-year domination of life on earth. Watch them move and hear them roar. From the ripple of their skin to the glint in their eye, you will think that the dinosaurs really are back!
Apart from this amazing animatronics, you will become a Paleontologist for the day as children will be provided with their expert digger outfit, and chip away at their very own fossil.
There is so much for the imagination as you interact with dinosaur activities including fossil displays, dinosaur arts and crafts, a giant world bug display, dinosaur jumping castles, Jurassic ball pit and block village, dinosaur egg photo opportunities and walking dinosaurs.
Pegged as a must-see exhibition for Dino-mad kids of all ages, Jurassic Creatures is set to bring all the wonder and excitement of the prehistoric world of dinosaurs back. Get ready to be thrilled as you see Triassic period come to life!
Loading Map ...

Location:
Waurn Ponds Shopping, Cnr Colac & Pioneer Rd,
Waurrn Ponds Victoria,3216
Location:
Waurn Ponds Shopping, Cnr Colac & Pioneer Rd,
Waurrn Ponds Victoria,3216