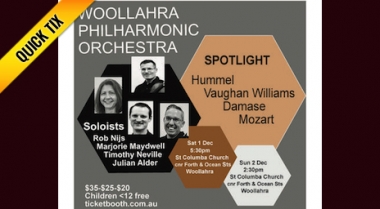 1

Double-Passes to give away!
$70.00

Prize value
Spotlight
Event Date: 02/12/2018, 02:30 pm
Come celebrate the start of summer with joyful music and the WPO!
In a concert featuring amazing solos and brilliant soloists, the Woollahra Philharmonic Orchestra
turns the spotlight on its own remarkable stars, featuring some of the WPO's principal players.

Violin, clarinet, harp and trumpet concertos are the featured 'star turns' in this festive season treat of Mozart, Vaughan Williams, Hummel and Damase favourites.

Tim Neville performs the triumphant, always popular, Hummel Trumpet Concerto before we are transported
to the sparkling lights of Paris with an Australian premiere of Damase's dazzling Harp Concerto, performed by Marjorie Maydwell.
The WPO's concertmaster and virtuoso violinist Rob Nijs will take us to another world again with Vaughan Williams' ethereal work, The Lark Ascending, before Julian Alder performs the perennial favourite, Mozart's stunning and sublime Clarinet Concerto.
Loading Map ...

Location:
St Columba Church,
Woollahra New South Wales,2025
Location:
St Columba Church,
Woollahra New South Wales,2025

Contact Information:

Phone Number:

0411 150 567