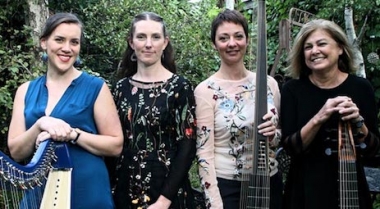 1

Double-Passes to give away!
$96.00

Prize value
Evergreen Ensemble
Event Date: 21/10/2018, 02:30 pm
Evergreen Ensemble presents a stunning concert of baroque and folk music
Evergreen Ensemble presents a stunning concert of baroque and folk music in North Sydney evocatively titled Snow in Summer.
And, with a delicious afternoon tea included, it also launches its gorgeous new album of the same name into the bargain!
The program features the music of Northern Scotland and Scandinavia with ancient vocal and instrumental melodies interspersed with exciting new compositions, inspired by rugged northern landscapes.
Presented by The Independent as part of its hugely popular "Prelude in Tea" Sunday afternoon concert series, guests will enjoy a scrumptious afternoon tea from 2:30pm followed by the sumptuous sounds of Evergreen from 3:30pm.

Winter is a time of solitude but also of festivity and story-telling. This program gives us the space to reflect on the passing of time, the seasons, memories and loves lost
– as well as powerful connections to the land.
Alongside 18th century sonatas you'll hear arrangements of folk songs: sparse, ambient string textures, plucked notes resonating like stars in a clear night sky and a voice soaring high above.

Evergreen Ensemble features three female musicians from Melbourne - Shane Lestideau (baroque violin), Samantha Cohen (theorbo and baroque guitar), Claire Patti (Celtic harp and voice) together with Sydney viola da gamba virtuoso Jenny Eriksson.
The October 2018 Snow in Summer tour also launches their CD album of the same name.
View & hear the stunning Snow in Summer official trailer at: https://youtu.be/JuHckKV-BGQ
Loading Map ...

Location:
The Independent Theatre 269 Miller St,
North Sydney New South Wales,2060
Location:
The Independent Theatre 269 Miller St,
North Sydney New South Wales,2060

Contact Information:

Phone Number:

+44299553000