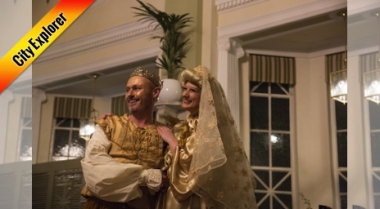 1

Double-Passes to give away!
$300.00

Prize value
Opera, Wine & Dine Series -
Event Date: 14/09/2018, 07:00 pm
Fully costumed comic opera and a superb bespoke meal in a stunning hidden-Sydney venue.
Enjoy a night of hilarity with Opera Bites and Rossini's "The Barber of Seville". Following sold-out performances in 2017, Opera Bites has once again partnered with The Castlereagh Boutique Hotel to bring you an unforgettable evening of fully costumed popular opera complete with a bespoke menu and select fine wines to match. As you step through the doors of this breath-taking heritage listed dining room you'll find yourself immersed in the world of operatic splendour.

Count Almaviva has fallen in love with Rosina – he has come to Seville in disguise as the student Lindoro to win her hand and to see if she will love him for who he is and not his rank. First, however, he must get her away from the clutches of her protector Dr Bartolo who wants to marry her himself. Almaviva enlists the help of Figaro, the barber and general factotum, who is always ready (for a price) to come up with a brilliant idea. Rosina is indeed in love with Lindoro (although she has no idea who he really is) but Dr Bartolo's accomplices, Berta and Don Basilio try their best to thwart the Count's plans. Figaro makes the Count disguise himself as a soldier as a way of getting into Bartolo's house but will Rosina want 'Lindoro' when she finds out about his deception...?

Double pass includes entertainment, 3-course bespoke menu and matching wines.
Loading Map ...

Location:
The Castlereagh Boutique Hotel, 169 Castlereagh Street ,
Sydney CBD New South Wales,2000
Location:
The Castlereagh Boutique Hotel, 169 Castlereagh Street ,
Sydney CBD New South Wales,2000