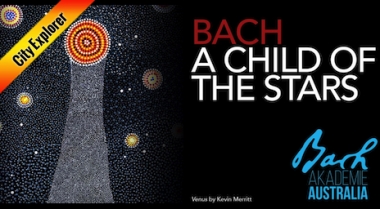 1

Double-Pass to give away!
$190.00

Prize value
Bach A Child Of The Stars
Event Date: 22/09/2023, 07:30 pm
Spectacular Concert Blends Baroque with Indigenous Australian Music - Sydney
Early music specialist, Bach Akademie Australia – with their redoubtable director and violin virtuoso Madeleine Easton – return to form with three spectacular concerts, in Sydney, Glenbrook and Chatswood.

And the master of Baroque cantatas shares the billing with two other early music composers AND contemporary Australian Indigenous composer, Troy Russell!

The concerts - at Sydney University's Great Hall (Friday night 22 Sept), St Finbar's Church, Glenbrook (Saturday night 23 Sept) and Our Lady of Dolours Church, Chatswood (Sunday afternoon 24 Sept) feature a Bach Cantata, works by de Victoria and Vincenzo Galilei plus the specially commissioned premiere of Troy Russell's 'Clans'.

There is also a presentation by Prof. Jonathan Bland-Hawthorn: 'Galileo, Bach and the western view of the heavens'.

Director and founder of the group, Bach doyen Madeleine Easton explains:

"To truly understand a culture," she says, "we must explore its relationship to the land, but also to the skies. The land and sky are as one, forever connected. It is with a spirit of connectivity that we present this program of music inspired by the heavenly body that both J.S. Bach and the First Nations peoples of Australia have seen every day for millennia – the Morning Star. "

Loading Map ...

Location:
Great Hall, University of Sydney,
Camperdown New South Wales,2050
Location:
Great Hall, University of Sydney,
Camperdown New South Wales,2050