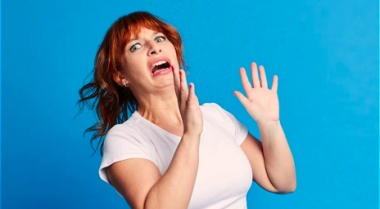 3

Double-Passes to give away!
$50.00

Prize value
Run Robyn Run
Event Date: 10/10/2023, 09:15 pm
Don't miss this uniquely HILARIOUS show! Melbourne Fringe
Run Robyn, Run! But what is Robyn running from?

In 2015, Robyn needed to get as far away from London as possible, and Sydney seemed like a good idea. But everything catches up to you eventually.

HEART-WARMING, HEART-WRENCHING and HEART-MELTING, anyone who has a HEART will love this show.
A tale of love, loss and reinvention.

Turns out, the best way to deal with intergenerational trauma might be to try to understand it.

From Prague 1945 to Sydney 2023, this family's got some stories, and Robyn's going to tell them.

You'll find yourself laughing at disappearing knickers, colonoscopy mishaps, and a sexy Soviet escape.

Witty, nuanced and unflinchingly funny.

Critics say...

"Reynolds (UK) is the descendant of survivors of the Nazis, and she tells that incredible story in her delicious stand-up show." – Time Out

"A beautiful comedy show about the ingredients that make up a person" – Wollongong Comedy Festival

"Clearly talented in the structure and timing of comedy, it's not hard to see why she's a fast-rising comic in the Sydney scene." – Theatre Travels

"What is most brilliant about Robyn is her charisma. She is welcoming, responsive and never lets you fall too far into feeling pity or sadness." – Kaleidoscope Arts
Loading Map ...

Location:
Bard's Apothecary Shop 7, 24 Crossley Street,
Melbourne Victoria,3000
Location:
Bard's Apothecary Shop 7, 24 Crossley Street,
Melbourne Victoria,3000