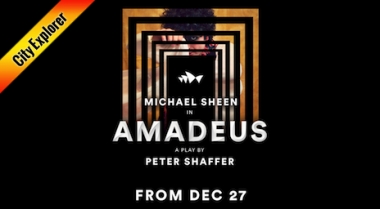 2

Double-Passes to give away!
$330.00

Prize value
Amadeus By Peter Shaffer
Event Date: 27/12/2022, 07:00 pm
Starring Michael Sheen at Sydney Opera House
The play reimagines the lives of Antonio Salieri and Wolfgang Amadeus Mozart in a narrative fuelled by power, jealousy, revenge, and symphonies. It reveals Salieri's inner torment as he grapples with Mozart's genius and sets out to destroy the brilliant, flamboyant young star. It explores life's big questions: ambition, legacy, and who among us deserves 'genius'. It was first performed in 1979 at the Royal National Theatre, London, and went on to play in the West End and on Broadway. It won the 1981 Tony Award for Best Play, and Shaffer adapted it for the 1984 film of the same name directed by Milos Forman, which won eight Academy Awards®, including Best Picture, four BAFTA
Awards and four Golden Globe Awards.
Michael Sheen is a multi-award-winning actor known for his extensive work across film, TV and stage, as well as his charity work supporting emerging writers in "A Writing Chance". Michael Sheen was nominated for an Olivier Award for his portrayal of Mozart in Amadeus at the Old Vic, London in 1998. He has vast credits in film, television and the stage spanning Hollywood and independent titles.
Loading Map ...

Location:
Concert Hall, Sydney Opera House,
Sydney New South Wales,2000
Location:
Concert Hall, Sydney Opera House,
Sydney New South Wales,2000