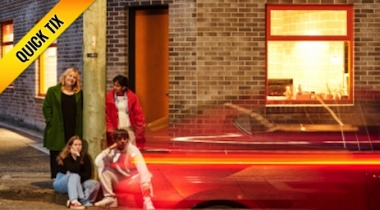 2

Double-Passes to give away!
$120.00

Prize value
ArtsLab: DRIFTERS Festival
Event Date: 19/10/2023, 06:00 pm
A festival of new theatre and performance works by Western Sydney Artists!
ArtsLab: Drifters is a festival of new work from Western Sydney's most exciting emerging artists. Experimenting in theatre and performance art, blending dance, history, experience, music and youth for a vibrant festival at 107 Redfern.

This year, Shopfront's ArtsLab residency continues to expand its program, partnering with Q Theatre, Penrith to deliver two week-long festivals of new works at 107 Projects, Redfern and The Joan, Penrith.

2023 ArtsLab WNW Residents: Adam Yoon, Anna Krywyj Moore, Divya Lotlicker, Irelish Barker

'One self over the Crimson Nest' by Divya Lotliker
Gallery
Wed - Fri: 11am - 9pm
Sat & Sun: 11am - 6pm

Red Soup by Anna Krywyj Moore
Theatre
Wed - Fri: 6pm
Sat & Sun: 2:30pm

CURBSQUATTERS by Irelish Barker
Upstairs Theatre
Wed - Fri: 7:15pm
Sat & Sun: 3:45pm

Sensations of Maintenance by Adam Yoon
Theatre
Wed - Fri: 8:30pm
Sat & Sun: 5pm
Loading Map ...

Location:
Redfern St,
Redfern New South Wales,2016
Location:
Redfern St,
Redfern New South Wales,2016